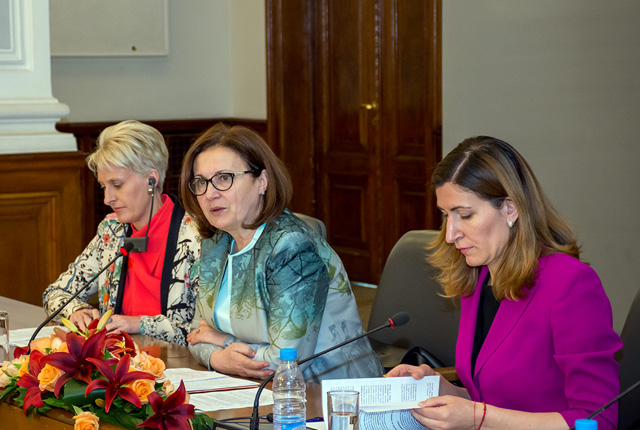 Sofia, June 1, 2016/Independent Balkan News Agency
By Clive leviev-Sawyer of The Sofia Globe
Bulgaria's Interior Ministry is deploying an additional 730 police at the Black Sea, who join police from Varna, Bourgas and Dobrich to take care of the security of holidaymakers during the 2016 summer tourist season.
This was announced on June 2 by Interior Minister Roumyana Buchvarova at a news conference also attended by Tourism Minister Nikolina Angelkova and UK ambassador to Bulgaria Emma Hopkins.
Buchvarova met foreign ambassadors on June 2 to discuss the security arrangements with them, with Hopkins saying that the fact that Buchvarova chaired the meeting with the ambassadors showed how seriously Bulgaria had undertaken to ensure the safety of tourists.
Buchvarova said that again, the "good tradition" would continue of local police being accompanied in joint patrols by police from Romania, the Czech Republic and Greece.
She said that the focus was on better organisation of work in regard to cases where foreign tourists need to submit reports or complaints.
An Interior Ministry statement quoted Hopkins as citing as a positive example the forms that had been prepared in English, French, German and Russian for foreign tourists to be able to report incidents.
This was a way to ease proceedings and give foreign nationals positive impressions of their visit to Bulgaria, Hopkins said.
The UK ambassador added that representatives of foreign embassies also had their obligations, including to inform their nationals travelling to Bulgaria of the requirements and legal realities with which they should comply.
One of the issues discussed at the meeting was the need to provide translation to assist tourists and to resolve any problems quickly.
Angelkova said that tourism depended greatly on ensuring calm and security at the destination. She thanked the Interior Ministry for taking steps promptly and proactively.
The Tourism Minister said that there was a hotline for tourists to call, to comment on any aspect of tourism and to make complaints or recommendations. Within a month, the 24/7 phone line would be operating to respond to complaints of irregularities.
The Tourism Ministry was posting on its website a handbook in Bulgarian and English on the rights of tourists and consumers, and the handbook would be distributed among embassies, hoteliers and tour operators.