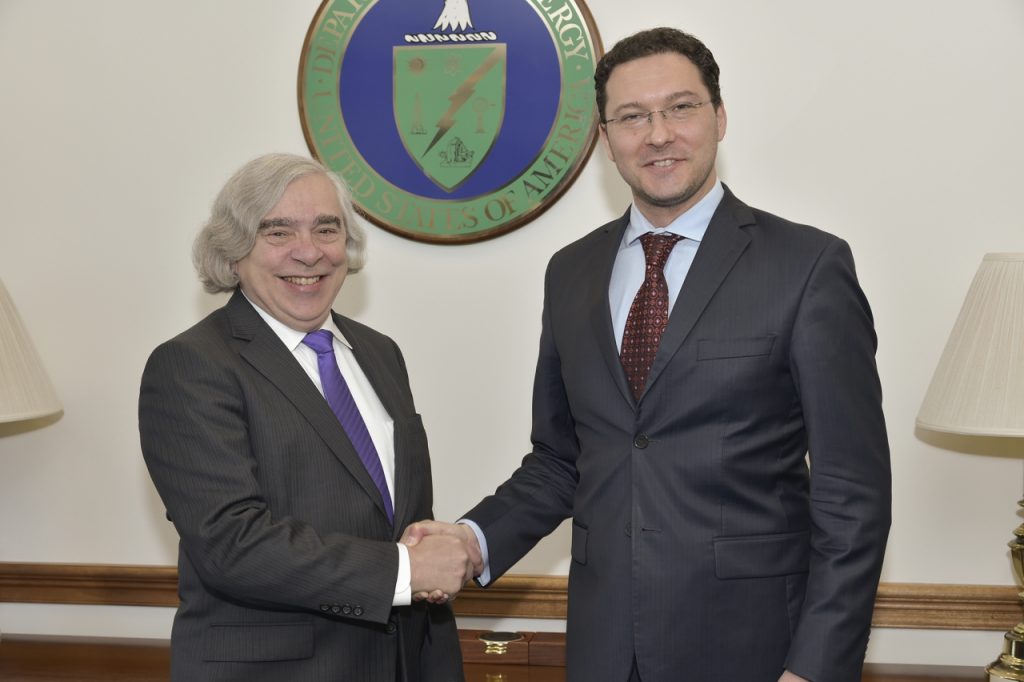 Sofia, July 23, 2016/ Independent Balkan News Agency
By Clive Leviev Sawyer of The Sofia Globe
Bulgaria's Minister of Foreign Affairs Daniel Mitov and US Secretary of Energy Ernest Moniz welcomed the energy and energy security cooperation between the two countries, the Foreign Ministry said in a statement.
The meeting took place on July 21 and marked the start of the Bulgarian Foreign Minister's working visit to Washington.
Mitov welcomed the US' consistent support for key projects for the diversification of sources and routes for the supply of energy resources in Bulgaria and the region.
Mitov and Moniz also discussed the progress in the construction of natural gas interconnectors with neighbouring countries.
An emphasis was placed on the facility with Greece and the Bulgarian government's plans to participate in the construction of a liquefied natural gas terminal near Alexandroupolis.
Mitov outlined the measures for the liberalisation of the energy market in Bulgaria, the modernisation of the infrastructure, expanding the natural gas storage facility in Chiren, as well as the plans to build a natural gas distribution centre.
Moniz declared a commitment to deepen co-operation with Bulgaria and continue with the joint efforts for diversification of energy sources and routes.
Mitov also conferred with US Trade Representative Michael Froman, with whom he discussed bilateral trade and economic co-operation and the opportunities to enhance commercial exchange and investment co-operation, the Foreign Ministry said.
The Transatlantic Trade and Investment Partnership (TTIP) agreement negotiations were also a subject of discussion. US chief negotiator Ambassador Froman and Mitov expressed hope that the TTIP talks and negotiations will be concluded soon.
Both sides agreed that a mutually beneficial agreement would foster opportunities for economic growth and is of exceptional importance in light of the UK's EU membership referendum results, as well as the overall geopolitical situation in the world.
Signing the TTIP will send a strong signal of the unity and sustainability of the transatlantic bond in all of its shapes and forms, including trade, economic and political co-operation, as well as security, both agreed, Bulgaria's Foreign Ministry said.