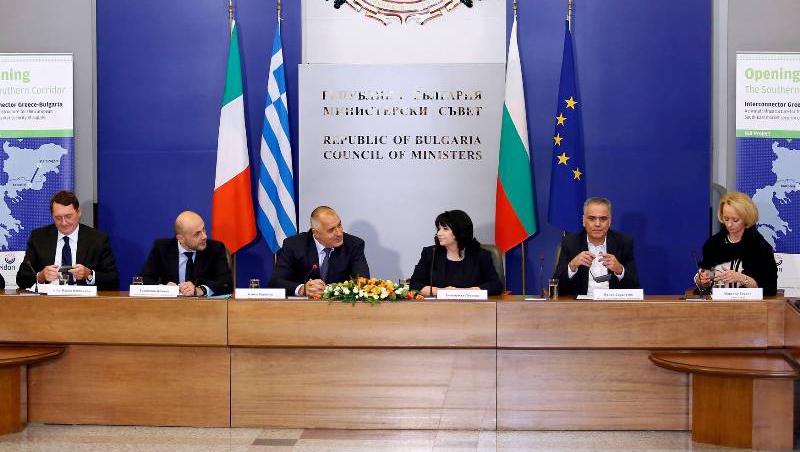 Sofia, December 10, 2015/Independent Balkan News Agency
By Clive Leviev-Sawyer of The Sofia Globe
After years of delay, Greece and Bulgaria signed an investment decision agreement in Sofia on December 10 to build a gas inter-connector pipeline between the two countries.
The project is seen as a key element of Sofia's attempts to diversify its sources of energy, as it would allow boosting imports from countries other than Russia, which currently accounts for more than 80 per cent of Bulgaria's domestic gas consumption.
Initially, the inter-connector will have an annual capacity of three billion cubic metres, but current plans envision increasing it to five billion cubic metres at a later date. The pipeline will link Bulgaria's gas grid in Stara Zagora to the Greek town of Komotini, a distance of 140km, and will cost an estimated 220 million euro.
The European Commission allocated 45 million euro to the proposed pipeline in 2010, it began emphasising closer ties between national grids in the wake of the Russian disruption of gas supplies a year earlier, and is expected to add a further 35 million euro under the Juncker investment plan, reports in Bulgarian media said.
Bulgarian Energy Holding (BEH), the umbrella corporation for state-owned energy sector assets, will receive state guarantees for a loan of up to 215 million leva (about 110 million euro) for the project. It will own 50 per cent in the project company, the same as IGI Poseidon, the joint venture between Greek operator DEPA and Italy's Edison.
In the long run, Bulgaria would like to see the inter-connector expanded to 20 billion cubic metres a year, allowing to serve as a key supply route for a regional gas hub, proposed by Bulgaria a year ago after Russia cancelled the South Stream pipeline.
The hub project is still at an early stage, but Bulgaria's EU Funds Minister Tomislav Donchev, who attended the investment decision signing ceremony, said that Bulgaria has secured EC's promise for support in drafting a detailed proposal. Donchev said that an analysis is expected to be completed by the spring of 2016, with an international investor conference on this topic tentatively pencilled in for May 2016.
But even in its current form, the proposed inter-connector would allow Bulgaria to reduce reliance on Russian supplies, as it would be used to pump Azeri gas into the country. In 2013, Bulgaria's state-owned gas company Bulgargaz signed an agreement to purchase one billion cubic metres of gas from the Shah Deniz 2 gas field once it begins deliveries to European customers in 2019.