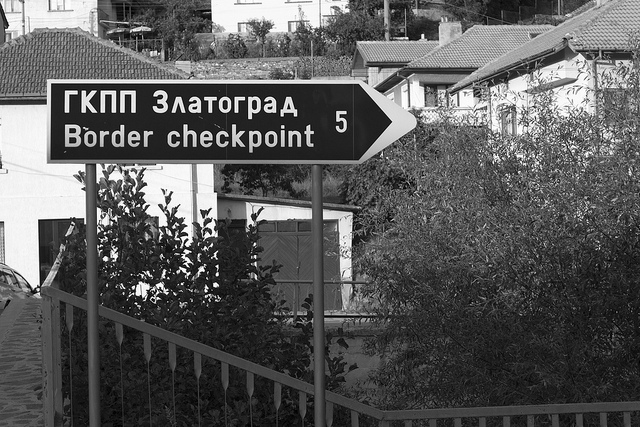 By Clive Leviev – Sawyer of The Sofia Globe
The long-awaited border checkpoint between Bulgaria and Greece at Makaza-Komotini is scheduled to be opened on September 9, officials in Bulgaria have said.
Bulgaria's Foreign Ministry has received confirmation from Greece for the date, socialist MP Dimcho Mihalevski, the chairperson of the parliamentary committee on regional development, told Bulgarian television channel bTV.
The ceremony on September 9 will be attended by regional governors from the two sides of the border. An official opening by the prime ministers of Bulgaria and Greece would happen at a later date, the report said.
The new border checkpoint will link the towns of Haskovo and Kurdjali in southern Bulgaria to Komotini and Alexandroupolis in Greece.
Initially, only cargo vehicles of up to 3.5 tonnes in weight and passenger vehicles with no more than eight seats (driver excluded) will be allowed to use the new checkpoint, Bulgaria's Foreign Ministry said. The two countries, however, agreed to finalise the construction of roads that would allow lifting such restrictions in the shortest amount of time possible, the ministry said in a statement.
Although initiatives to open the checkpoint have existed for decades, actual work on roads through the Makaza Pass in the Rhodope Mountains only began in 2003, when Bulgaria was already an EU candidate country. Initially scheduled to open in 2005, the checkpoint's opening date has been postponed numerous times.
The checkpoint is also part of the pan-European corridor IX, meant to link the Baltic Sea ports of Helsinki, Kaliningrad (Russia) and Klaipeda (Lithuania) to the Black Sea ports of Odessa (Ukraine) and Alexandroupolis, passing through St Petersburg, Moscow, Vilnius, Kyiv, Chisinau and Bucharest.
The new checkpoint will provide the shortest connection to Alexandroupolis and is expected to take on some of the traffic between Bulgaria and Greece that is currently forced to cross the border at other checkpoints.
However, work on some road sections in Bulgaria was still ongoing and it was unclear when the checkpoint would be operating at full capacity, reports in Bulgarian media said. The checkpoint itself will be on Bulgarian territory and will be staffed by both Bulgarian and Greek customs officials.
(The new checkpoint is expected to offer a more direct route to traffic that is now forced to use other crossings, such as at Zlatograd. Photo: stanimir.stoyanov/flickr.com)