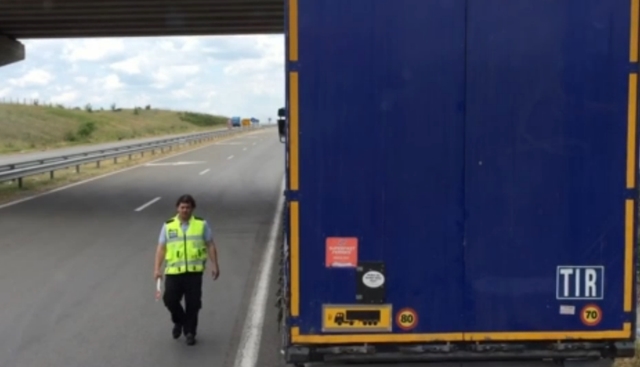 Sofia, June 4, 2015/ Independent Balkan News Agency
By Clive Leviev-Sawyer of The Sofia Globe
Footage filmed by a Turkish lorry driver of how he was forced by a Bulgarian Motor Vehicle Administration roadside inspector into giving a bribe has become an online hit in Bulgaria – and resulted in the inspector's dismissal.
Bulgaria's Transport Ministry said on June 4 that the inspector, named in media reports as Petar Velikov of the Motor Vehicle Administration in Haskovo, had been dismissed.
Motor Vehicle Administration head Tsvetelin Tsvetanov told reporters earlier on June 4 that he had heard about the case from the media.
Tsvetanov said that he would forward the materials in the case to the prosecutor's office and the Interior Ministry.
In recent weeks, the Motor Vehicle Administration has dismissed 58 people, some because of alleged corruption, reports said.
The Transport Ministry said that it had commissioned a review of the Motor Vehicle Administration regional department in Haskovo and that all roadside inspection officials had been suspended pending the outcome of the investigation, their places temporarily taken by other officials drafted in.
The Turkish driver posted the video on YouTube and it also appears on Bulgarian video site vbox7.
The dialogue on the video, in a mixture of Bulgarian and Turkish, involves code words for the sum to be paid, using the colours of euro notes rather than direct references to their face value.
The Motor Vehicle Administration issued a pledge that it would investigate all tip-offs of irregularities by its employees promptly. Cases may be reported by phone to 0700 19 990 and 02/940 94 00 and by e-mail: [email protected].
The video may be viewed at http://www.vbox7.com/play:ecb1a9d5bf.