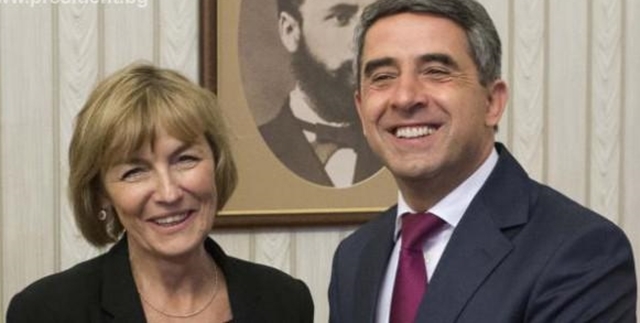 Sofia, May 26, 2015/ Independent Balkan News Agency
By Clive Leviev-Sawyer of The Sofia Globe
An explicit and visible commitment by the European Union is needed to ensure the preservation of the territorial integrity of FYR of Macedonia, as well as civic and inter-ethnic peace, Bulgarian President Rossen Plevneliev and Croatian foreign minister Vesna Pusić said.
In recent days, Bulgaria repeatedly has been underlining a key role for the EU in the troubled former Yugoslav republic, and did so again on May 26 when the Croatian foreign minister was in Sofia, meeting her counterpart, Bulgaria's European policies minister, and the country's head of state.
Bulgarian Foreign Minister Daniel Mitov discussed FYR Macedonia with Pusić, saying that Bulgaria's position was that a clear and categorical commitment by the entire EU was needed in the process of FYR Macedonia's exit from the political crisis and throughout the transition period until the establishment of lasting political stability to to ensure the preservation of civil and interethnic peace in FYR Macedonia, as well as the territorial integrity of the country.
This would be a long process, in which Bulgaria was ready to assist, but the responsibility for reforms and the maintenance of stability remained with the political factors in FYR Macedonia, Mitov said.
He said that it was even more important to use the crisis as an opportunity to launch actual reforms, without which negotiations on EU membership could not start.
Pusić held talks with Meglena Kouneva, Deputy Prime Minister in charge of European policies, who said that Bulgaria and Croatia were the countries most familiar with the Western Balkans and problems in that region.
Kouneva said that building a region of stability, security and prosperity, where the values, principles, and standards of the EU are guaranteed was of particular importance to Bulgaria, more than other countries, especially in the context of the events in FYR of Macedonia.
"The Republic of Macedonia is in a severe political crisis and we, as part of the EU and a neighbouring country, are committed to contributing to its resolution," Kouneva said.
"As a (EU) member state, we expect and we will demand that the EU also takes part in a clear and unequivocal way in the political crisis exit process and achieving lasting political stability, " she said, adding that the stability of FYR of Macedonia was also a matter of European security.
"It is of mutual interest to achieve lasting irreversibility of the geostrategic choice of the country [to join] the EU," Kouneva said
She said that Bulgaria had always actively and consistently supported the enlargement of the EU, as well as the Euro-Atlantic future of FYR of Macedonia. That, however, required heavy political reforms, part of which was good neighbourly relations.
Pusić told reporters, "We believe it is important to keep Southeast Europe on the agenda as a region of future EU member states. Our countries have guaranteed European prospects and in that Croatia and Bulgaria see a joint interest".
She said it was a country-specific tailor-made approach, mentioning FYR Macedonia as the most sensitive point of the region which required engagement by other EU member states as well.
Pusić said that what FYR Macedonia needed was stability and protection of human, civil and ethnic rights, which can be achieved only through co-operation.
She said that Croatia had established the Centre of Excellence, which gathers people who have participated in Croatia's EU entry talks and co-operate with state officials from all countries in the region, including FYR Macedonia.
(Photo: V Nikolov/president.bg)