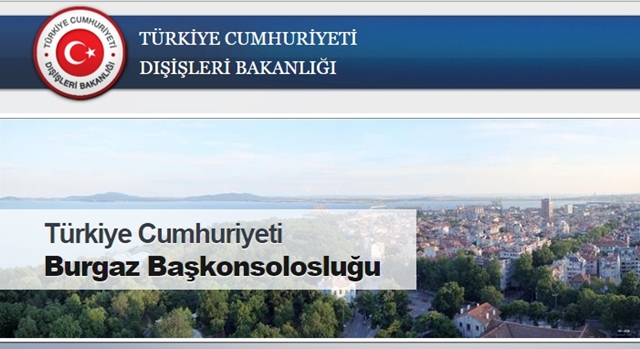 Sofia, February 21, 2016/Independent Balkan News Agency
By Clive Leviev-Sawyer of The Sofia Globe
Bulgaria's Foreign Ministry said on February 21 2016 that it would not comment on media reports that Sofia had asked Ankara to withdraw a Turkish diplomat, based at the consulate in the Black Sea city of Bourgas.
Reports said that Uğur Emiroğlu, a social affairs attaché at the Turkish consulate in Bourgas, had been declared persona non grata, for "activities incompatible with the Vienna Convention on Diplomatic Relations". Soon after, other reports said that Turkey had retaliated by asking Bulgaria to recall its consul in Istanbul.
Emiroğlu, formerly an imam in various Turkish cities and in Strasbourg in France, was said to have spent most of his time in Bulgaria engaged in religious activities. Reports quoting unnamed sources alleged that he had sought to put pressure on people to support ousted Movement for Rights and Freedoms leader Lyutvi Mestan and had been a frequent visitor to the town of Shoumen where he had intervened to tell local Muslim leaders how to conduct services and prayers.
Bulgaria's Foreign Ministry, in an official statement, said that it was not the custom to comment on such cases and it would not do so now or at any time in the future.
The episode is the latest in a saga that made headlines when Mestan was ousted as leader of the MRF, the party led and supported in the main by Bulgarians of Turkish ethnicity, after Mestan spoke out in Bulgaria's Parliament in support of Ankara amid Turkish-Russian tensions over Turkey's downing of a Russian bomber near Syrian air space.
Ahmed Dogan, founder and honorary president of the MRF, had Mestan expelled over what Dogan described as Mestan's gaffe in making the statement.
Turkey's ambassador in Sofia, Süleyman Gökçe, was summoned to the Bulgarian Foreign Ministry in late 2015 to be handed a note advising him not to act in a way that fuelled perceptions that he was not behaving according to the conventions of diplomacy.
In early February 2016, media close to Turkish president Recep Tayyip Erdoğan said that Turkey had barred Dogan and controversial business person and MRF MP Delyan Peevski from entering the country. Later, unconfirmed reports said that the list of Bulgarian MRF figures barred from entering Turkey ran to 136, and also included the three temporary co-leaders of the MRF, former cabinet ministers, current municipal mayors and other key members of the MRF.
Turkish ambassador Gökçe has neither confirmed nor denied the reports of the bans on Dogan, Peevski and the others, while the Bulgarian Foreign Ministry has said that it has received no official information about the reported bans, at the same time pointing out that there is no requirement for such information to be sent to it.
Gökçe has denied allegations of Turkish interference in Bulgarian domestic politics.
Turkish media reports alleged that Peevski was a "pro-Russian oligarch" and further alleged a link to the smuggling of Bulgarian contraband cigarettes into Turkey.
Soon after these reports, Peevski issued a media statement saying that he was selling his stake in Bulgarian tobacco giant Bulgartabac.
Bulgarian-language website Mediapool said that according to unofficial information, Turkish authorities were investigating smuggling allegedly linked to Bulgartabac because of suggestions that the proceeds were being used to fund Kurdish party PKK, long engaged in a struggle with the Turkish government and Erdoğan.
The Bulgarian Parliament, meanwhile, agreed on February 19 to set up an all-party temporary committee, with a term of two months, to examine allegations of Turkish and Russian interference in Bulgarian domestic politics.