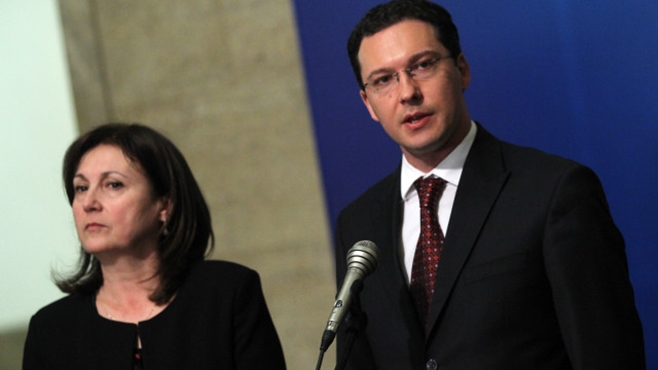 Sofia, March 11, 2016/ Independent Balkan News Agency
By Clive Leviev-Sawyer of The Sofia Globe
The final version of the agreement between the EU and Turkey must ensure that the land border between Bulgaria and Turkey, and between Greece and Turkey and the Black Sea, will not become a new route for human traffickers, Bulgarian Foreign Minister Daniel Mitov said.
Bulgarian Interior Minister Roumyana Buchvarova said that Bulgaria wants, once the final agreement between the EU and Turkey is adopted, to be able to return migrants to Turkey in the same way that Greece will.
Mitov, speaking in a television interview on March 10, said that there were certain principles that had been proposed by Turkey, and the European Council was committed to working on them, but without committing itself to accepting all of them in full.
"Negotiations are continuing," Mitov said. "It is clear that not all parameters will be accepted. I am convinced of that." He said that the good thing was that message was clear that the "Balkan Route" of migrant was closed.
"That is the goal, the restoration of control over the external borders of the EU. Reaching an agreement between the EU and Turkey must ensure the creation of mechanisms so that both sides have effective tools to be able to control the process," Mitov said.
He said that it was good that Turkey had committed itself to taking back illegal migrants who were caught in Turkish waters, on the one hand, and on the other hand, to accept those who were already in Greece – but not eligible for international protection because they were not refugees.
Mitov said that one of the things that Bulgaria and other European countries had managed to achieve was the distinction between two categories of people, refugees and economic migrants.
"A large percentage of people entering Europe are not refugees. And that is a clearly established fact," Mitov said.
He said that at the next European Council, Bulgaria would insist on two very important elements that must become part of the agreement, one that there should be special attention to strengthening the prevention of new routes, and the other – in connection with the liberalisation of the EU's visa arrangement with Turkey – would be monitoring that Turkey really was fulfilling the agreement.
Interior Minister Buchvarova, who was attending meetings of EU justice and home affairs ministers in Brussels on March 10 and 11, said that at Thursday's meeting, she had raised the question that if the EU's external borders were to be guaranteed, "we must apply the same measures along the Bulgarian-Turkish border as on the Turkish-Greek border".
Buchvarova told reporters that her EU counterparts had reacted to this point "with approval and understanding" and she hoped that this provision would be included in the final version of the EU – Turkey agreement on migration control.