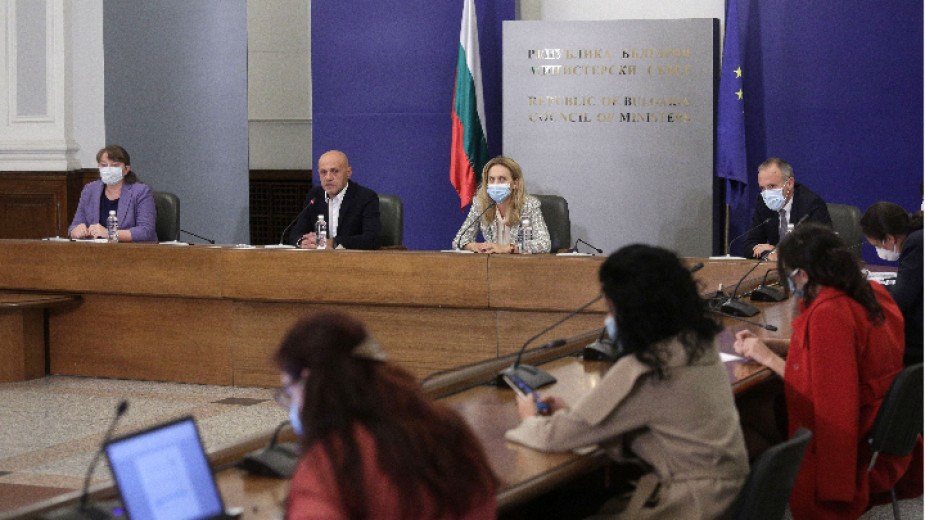 "In difficult times, when a pandemic and a social and economic crisis is accumulating, only the state can help", Deputy Prime Minister Tomislav Donchev told reporters.
Donchev, together with the Minister of Labor and Social Policy Denitsa Sacheva, the Minister of Education Krasimir Valchev, as well as with representatives of the Ministry of Finance, the Ministry of Health and the Ministry of Agriculture, presented the central points of the draft state budget for 2021.
According to the Deputy Prime Minister, the state is doing everything possible so that the measures are taken swiftly and reach everyone. Donchev released data showing that, even after borrowing, the debt-to-GDP ratio is 23.5%. Therefore, Bulgaria is still the country with the lowest debt amongst the EU Member States.
As he explained, the parameters of the budget retain the main priorities – part of the program of this government – training, infrastructure, modernization of the army.
Commenting on statements by Bulgarian President Rumen Radev in which he described the budget as "catastrophic", Donchev stressed that "our democracy is suffering from a number of ailments- from political dyslexia to political amnesia". As for Radev's call months ago for the establishment of more measures, the deputy prime minister replied, "Here are your measures".
Undersecretary of Health Jeni Nacheva stressed that the viability of activities related to tackling the COVID pandemic would be ensured.
"We continue to maintain the lowest taxes, as the colleague from the Ministry of Finance said, the second lowest debt, the third lowest deficit in the EU, but at the same time we are offering an increase in income", said Social Affairs Minister Denitsa Sacheva.
Continuing, Sacheva defined the draft budget as a budget for the people. She elaborated on the priorities in the new budget.
"In the 2021 budget, we proposed an increase in the minimum wage, an increase in the minimum pension, an increase in the maximum monthly pension, while maintaining the maximum insurance income. BGN 607 million will be invested in active and passive labor market policy, including BGN 300 million for the 60/40 measure, which has so far managed to maintain more than 250,000 jobs. According to the initial planning of measures, 186 million BGN were disbursed while, according to the follow-up planning, to date expenditure amounts to almost 280 million BGN", the Minister pointed out.
Denitsa Sacheva added that BGN 463 million has been allocated for the upbringing of children, of which BGN 73 million was directed for families with children under the age of 14, where parents cannot work remotely from home.
"BGN 223 million is intended to support people with disabilities. 47 million leva will be given for food products in the form of a 120 leva one-time allowance for pensioners, whose monthly pension ranges from 300.01 to 369 leva and are thus under the poverty line", the Minister pointed out, commenting that there was no question about the future being stolen, given that there have been investments in the sectorts of health, education and social policy and the labor market at the moment, and stressed that the state is now investing in these areas as a priority. /ibna