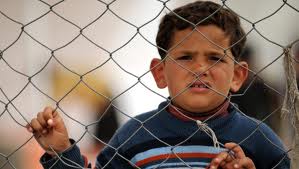 By Clive Leviev – Sawyer of The Sofia Globe
There appears currently little chance that Bulgaria will get additional funding from the European Union to cope with the sharply increasing numbers of refugees from Syria crossing into the country, and for now it appears that Bulgaria will have to rely on its own resources.
This much emerged after a September 9 meeting between interior minister Tsvetlin Yovchev and European Commissioner for International Cooperation, Humanitarian Aid and Crisis Response Kristalina Georgieva and European Home Affairs Commissioner Cecilia Malmstrom.
With more than 1400 Syrian refugees in Bulgaria, about half the total number of asylum seekers, facilities for temporary shelter in the country are overflowing. Conditions are reported to be dissatisfactory and a number of Syrian refugees in one centre have started a hunger strike to demand faster processing of their asylum applications.
Interior Ministry estimates are that the number of Syrian refugees in Bulgaria could reach 10 000 by the end of 2013, meaning spending of about 10 million leva (about five million euro).
On September 10, the head of Bulgaria's Military Medical Academy, Stoyan Tonev, told local media that the academy was gearing up to cope with a possible refugee wave in the country.
Tonev said that teams were providing health care to the refugee camps.
"Generally speaking, the information is positive. There is nothing to worry us. The refugees are young, intelligent people who speak languages. Generally, they suffer from exhaustion, dehydration, hypertensive crises, minor injuries. We provide them with the help they need, but here I mean prevention of outbreaks of infectious diseases, but so far there is no such information, neither among the adults, nor among the children. Neither have we information that someone was injured in the chemical attack," he said.
He said that two medical teams with the Military Medical Academy were ready to depart for military hospitals in Jordan, if necessary, to help the Syrian refugees there.
On September 9, it was reported that Bulgaria's Prosecutor-General Sotir Tsatsarov had sent additional prosecutors to the border towns of Elhovo and Svilengrad.
The move was made because of the much higher number of illegal crossings into Bulgaria across the Turkish border.
Part of the procedure for asylum applications requires checks by prosecutors, and the deployment of additional prosecutors is intended to speed the process.
Bulgaria's education ministry intends trying to find teachers, including from among the Syrian refugees, to enable Syrian refugee children to continue their studies. Officials were seeking to establish the number of children, age groups and needs. Attempts were being made to find facilities to use as classrooms.
Control has been tightened at the Turkish-Bulgarian and Greek-Bulgarian borders.
According to Yovchev, EU-level assistance to Bulgaria at this stage would mainly be technical, such as border agency Frontex and the office for refugees assisting with translations and interpretation in interviews with asylum seekers and in dealing with documentation.