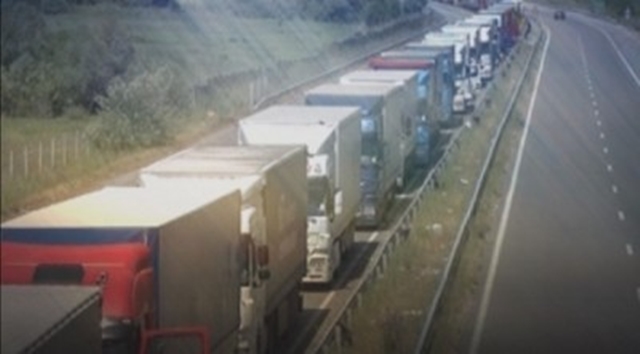 Sofia, September 25, 2015/Independent Balkan News Agency
By Clive Leviev-Sawyer of The Sofia Globe
Bulgaria's Foreign Ministry said on September 25 that it had summoned the Croatian ambassador in Sofia, Ljerka Alajbeg, to "express serious concern" about Croatia's closure of its Batrovci-Bayakovo checkpoint at the Serbian frontier.
Alajbeg was told that the inability of Bulgarian lorries to cross the Croatian-Serbian border for several days because of the closure of the checkpoint, and their blocking in long queues on Croatian and Serbian territory was causing consderable damage to Bulgarian transportation companies.
Bulgaria asked Croatia to take the necessary steps to immediately open the Batrovci-Bayakovo border checkpoint to allow the movement of Bulgarian lorries or to come up with the necessary organisation so that they could be directed to other operating checkpoints on the border between Croatia and Serbia, the Bulgarian Foreign Ministry said.
As the Voice of America reported, Serbia and Croatia have been involved in a tit-for-tat blockade sparked by the influx of refugees and other migrants.
The backlog of vehicles began when Croatia responded to the cross-border flood of refugees and other migrants by closing all but one crossing with Serbia. Zagreb banned all trucks from Serbia except perishable goods, a move that cut off Serbian trade links to much of Europe.
Belgrade responded with its own embargo on imports from Croatia.
Not to be outdone, Croatia issued a block on all vehicles registered in Serbia, bringing traffic to nearly a full stop, VOA said.
On September 25, Bulgarian National Television said that because of the closed border, about 150 Bulgarian lorries were blocked between Serbia and Croatia, according to the Bulgarian Road Transport Association.
Some of the lorries that had been waiting at the Batrovci-Bayakovo checkoint had been redirected to Hungary. Carriers travelling to Italy and southern France were forced to bypass via Hungary and Slovenia, a time-consumering additional 500km, the report said.
The Bulgarian Ministry of Transport had contacted Serbia with a request to solve the problem, BNT said.