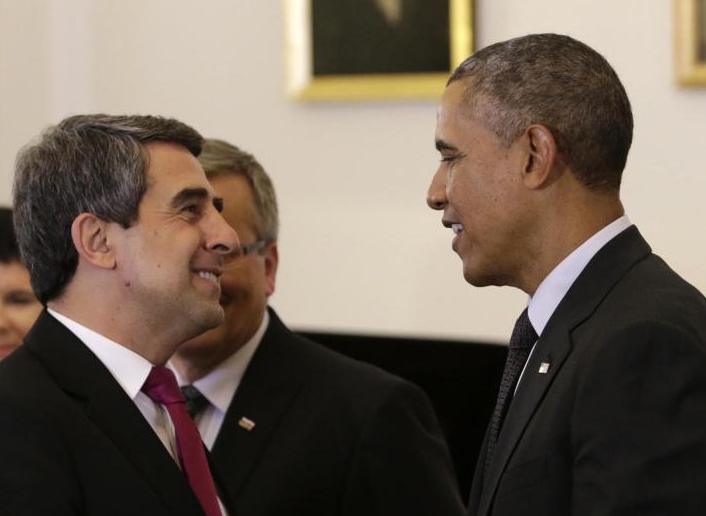 By Clive Leviev – Sawyer of The Sofia Globe
Bulgaria should undertake clear commitments to energy security and diversification, President Rossen Plevneliev told reporters in Warsaw, where energy security was one of the main topics in talks between heads of state and government from Central and Eastern Europe and US president Barack Obama.
Plevneliev's comments on June 4 came against a background of Bulgaria's overwhelming energy dependence on Russia, about which concerns have been exacerbated by Russian aggression against Ukraine and domestic and European issues such as the South Stream project and the question of progress on regional gas interconnectors.
The Bulgarian head of state underlined that it was high time for gas interconnector projects with neighbouring countries to be implemented because this would reduce Bulgaria's energy dependence.
"For a long time we have been talking about looking for alternative suppliers of gas, it is high time to make an effort to do so," Plevneliev said, giving the example of Poland, Croatia and the Baltic countries working to reduce energy dependency by building their own LNG terminals to ensure supplies from different countries.
"A floating LNG terminal or a stationary one in Greece is a workable idea for Bulgaria and the region and every effort should be made to carry this out," Plevneliev said.
He said that Bulgaria should accelerate the construction of the gas link with Serbia and Romania, which would allow connectivity with Croatia and Poland.
"This is how, in a very effective way, we can get gas from different directions."
He said the achievement of a gas connection with Turkey could "solve the problem of diversification" of the routes for delivery of energy resources.
Plevneliev said that Bulgarian politicians should explain honestly to citizens that global energy prices would not fall.
Countries should endeavour to initiate national programmes for energy efficiency, which was the way to solve the problem of high energy prices generally, which would not decrease in the coming years. In this way, people could be helped to decrease their electricity bills, by investing in energy efficiency, Plevneliev said.
The same day, it emerged that Plevneliev would visit Ukraine soon. This became clear after talks between the Bulgarian head of state and Ukraine's president-elect Petro Poroshenko.
Poroshenko told Plevneliev that after his inauguration as president, he would treat very seriously the rights of Bulgarians in Ukraine and the seeking for solutions based on European values and standards, the Bulgarian president told reporters.
The two discussed the crisis in Ukraine, with Plevneliev reiterating the need for Europe to speak with one voice.
If Russia did not recognise the legitimate elections held in Ukraine and continued to destabilise the region and Ukraine, it was possible to move to the third phase of sanctions, including economic sanctions, Plevneliev said.
Should it come to a situation like this, Bulgaria should live up to its responsibility as a worthy member of the EU, Plevneliev said.
"We must help Russia to work towards trust and to respect the rules of the international legal order," Plevneliev said. The EU could not tolerate behaviour that amounted to the aggressive imposition of a new order based on might-is-right and a failure to comply with international norms, he said.