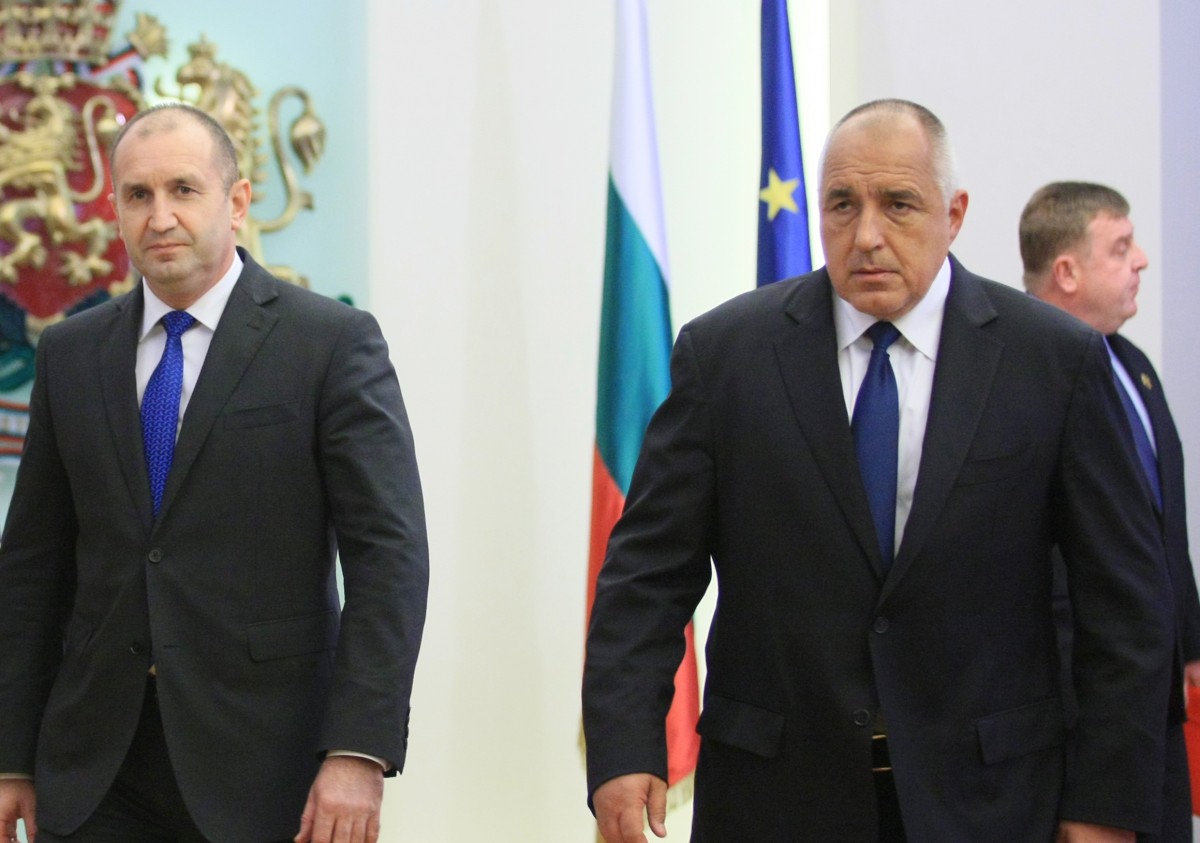 Bulgarian President Rumen Radev has withdrawn his confidence from the Government, with Prime Minister Boyko Borissov responding that he had no contact with him and that this move of his would cost him nothing.
At 12 in the morning sharp, President Rumen Radev announced that he had formally withdrawn his confidence from the Government today, which, in his view, was not acting in the interests of Bulgarian citizens.
The President pointed out that there was a strong crisis in governance at all levels; with a lack of will to reform and fight corruption and waste, law and morals were routinely being bypassed. According to Rumen Radev, Pernik residents and entire villages in the area were left without water, for which the cabinet refused to take any political responsibility.
"The cabinet has quietly pushed for reform of the monetary council, for which Bulgarians are waiting for clear explanations. The legislation was taken hostage by the interest groups, with poverty and inequality rising. They even put national sovereignty at stake in the name of personal survival policy".
The institutions are called upon to be independent and to abide by the law which is flagrantly violated by the institutions of power.
"This Government and administration are leading to the collapse of the state and are depriving us of our future as a nation", President Radev stressed, noting that all of the above must come to an end.
Just an hour after the President's statement, Prime Minister Boyko Borissov, heading over to inspect the construction of the water pipeline linking Malo Boutsino with Pernik, gave his response.
The President, who is now trying to take over, is not the one providing us with power. It is only people's trust that matters, and we were given that twice last year. Instead of acting in unity for the sake of the nation, Radev is being divisive, the Prime Minister underlined. He just repeats what the BSP and MRF have to say, Borissov continued, noting that Radev was not acting institutionally.
He believed that today's statements by Rumen Radev could be a call for a new political party and the start of an election campaign.
"With President Rumen Radev we have no point of contact except the symbolic councils, during which nothing has ever been decided.
The Prime Minister added that it was more advantageous to fight the Government than other institutions. "It's probably more dangerous to attack the Public Prosecutor's Office, and that's why he's looking for enemies elsewhere. He wants to deflect the attack on me and the Government because it is more profitable for him. Because we are defenseless – you can say whatever you want. Instead of them explaining what they have done", the Prime Minister added.
Speaking to reporters, Borissov reiterated that he never said he would run for president. I win the mandate and I deal with the party, he said. "I know I will get BalkanStream done; I know I will realize the interconnection with Greece. I think I will manage Belene as well", Borissov commented. /ibna