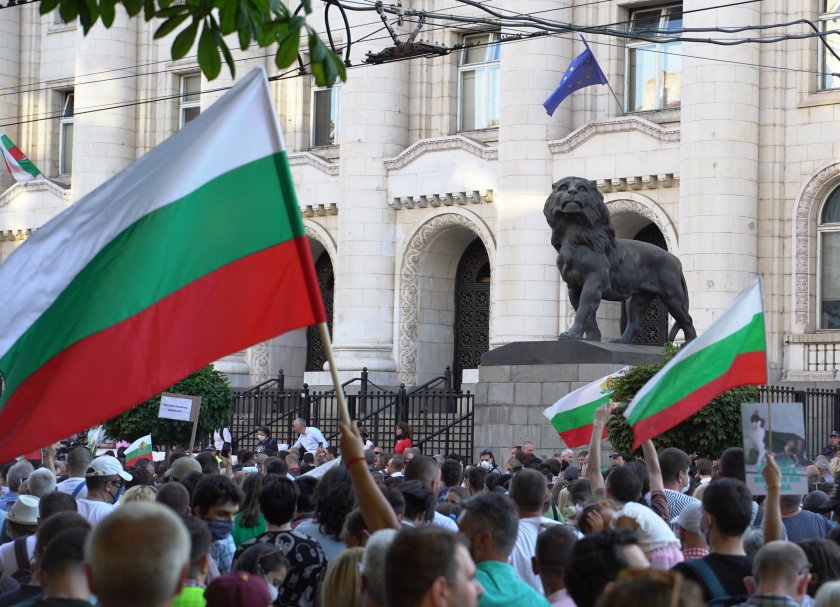 Bulgarian President Rumen Radev participated in a protest organized by citizens defending him, after his close associates were arrested by the Prosecutor's Office on Thursday.
The ongoing protest began early in the afternoon, with protesters demanding the resignation of the government and the Attorney General for his actions. Rumen Radev was accompanied by Socialist Party (BSP) leader Cornelia Ninova and Maya Manolova.
In his statements, the Bulgarian President noted that "the Bulgarian mafia has achieved the impossible; to unite honest people against them. It's up to all of you to get the mafia out of the executive branch".
He went on to add that the Bulgarian mafia was using the prosecution in the most ruthless way as a shield and for political repression. He added that a war was beginning in Bulgaria, as anger erupted in the square today.
"This is a battle for our dignity, for our children, for our future, for our nature. The battle for a just, modern and European Bulgaria. Not for fear! We will return Bulgaria!"
BSP leader Cornelia Ninova explained that left-wing lawmakers had participated in the protest because they did not accept this show, this spectacle that invaded the presidency institution. "If there are suspicions that the administration has violated the law, let them be investigated. We respect the rule of law, but not in the showy, dynamic, almost punitive way that is displayed today".
Earlier today, prosecutors stormed the presidential building and searched the offices of Plamen Uzunov, the president's legal secretary, and security adviser Iliya Milushev.
According to the prosecutor's office, the lawsuits are based on two investigations, one by the Sofia Provincial Military Prosecutor's Office and the other by the Special Prosecutor's Office on issues affecting transactions.
Businessman Plamen Bobokov and President Plamen Uzunov will remain in custody for 24 hours, in order for an investigation on them influencing transactions to be carried out.
It was also made clear that Iliya Milushev was also arrested in connection with a revelation of state secrets.
In addition to Milushev, MK was also detained for 24 hours, who is a former employee of the state intelligence service. /ibna