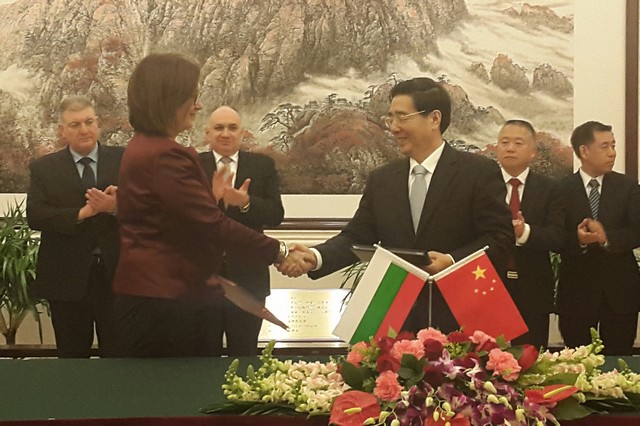 Sofia, January 12, 2016/ Independent Balkan News Agency
By Clive Leviev-Sawyer of The Sofia Globe
Bulgaria and China signed on January 11 2016 an agreement on preventing and combating crime, updating a previous agreement signed in 1996, Bulgaria's Interior Ministry said.
The agreement was signed in Beijing by Bulgarian Deputy Prime Minister and Interior Minister Roumyana Buchvarova and her Chinese counterpart Guo Shengkun, State Councillor and Minister of Public Security of China.
"In the current security environment, the threats and challenges are common and so are the solutions. Close co-operation among partner services is crucial," Buchvarova said at the signing.
Bulgaria's Interior Ministry said that the agreement provides the necessary legal basis for effective police co-operation in combating a wide range of crimes, including terrorism and organized crime, human trafficking, drugs and firearms.
The agreement provides for exchange of experts and training of police officers.
It broadens the circle of authorities to implement the agreement on the Bulgarian side to include both the Ministry of Interior and State Agency for National Security.
The Bulgarian side said that it had achieved explicit regulation of protection of personal data, the lack of which has until now been an obstacle to effective co-operation between the law enforcement authorities of Bulgaria and China.
Guo said that international terrorism was the greatest and most urgent security challenge in the world. Combating the financing of terrorism requires international co-operation, he said during a working meeting of the two ministers and their teams.
Buchvarova visited the First Institute of Research and Innovation of the Ministry of Public Security of China. She was briefed on the activities of the Institute – one of the largest research centres in the country. It covers the analysis, standardization, development and manufacture of innovative technologies and solutions in the law enforcement field, including CCTV, scanners, safety equipment, solutions related to identity and access cards, among others, the ministry said.
"Modern technology allows us to more effectively ensure security," said Buchvarova, who was accompanied on her visit to China by Interior Ministry chief secretary Georgi Kostov and the heads of the Interior Ministry Directorates for international operations co-operation and for EU and international co-operation.