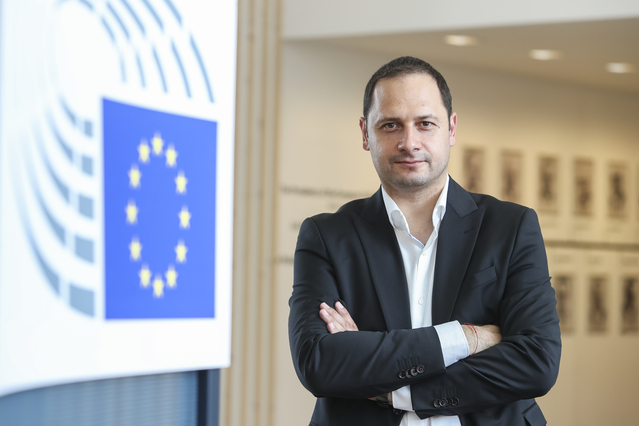 There is no difference between the positions of the Bulgarian Socialist Party (BSP) and the main actors in the government of Boyko Borissov, Defence and Foreign Ministers Krasimir Karakachanov and Ekaterina Zaharieva, on the veto in the EU accession talks, BSP MEP Petar Vitanov said today for the Bulgarian national television BNT.
Vitanov, given the March elections, raises the question to the Bulgarian public as to why the Borissov government allowed this situation to happen, even though it could have set the conditions much earlier. Vitanov, who is the leader of the Bulgarian Socialists in the European Parliament, said Sofia was now under great pressure from France and Germany to approve the negotiating framework and start negotiations.
"The important question is why this happened. For the last three years, due to short-sightedness, we have not used the framework provided by the Friendship, Good Neighbourlilness and Cooperation Treaty. For the first time, the concept of 'common history' was formulated and for the first time an interdisciplinary committee was set up to resolve the historical issue. This agreement was the basis that could be included in the negotiations as an horizontal criterion for the 'implementation of bilateral neighbourliness agreements'. However, that did not happen".
He noted that the Bulgarian government misled society when it gave the green light to start negotiations in March. "We waited until the last minute" and now Bulgarian diplomacy has allowed Bulgaria to come under enormous pressure. "Pressure from France and Germany is on Borissov, not Zoran Zaev, to fulfill the agreement".
Vitanov said that most western countries want the enlargement process to continue and that some form of co-operation with North Macedonia will eventually be found. "A legally binding mechanism will be found, perhaps in the form of a bilateral agreement guaranteeing the implementation of the Good Neighbourliness Agreement, the measures taken and the roadmap for their implementation", BSP MEP Petar Vitanov said./ibna