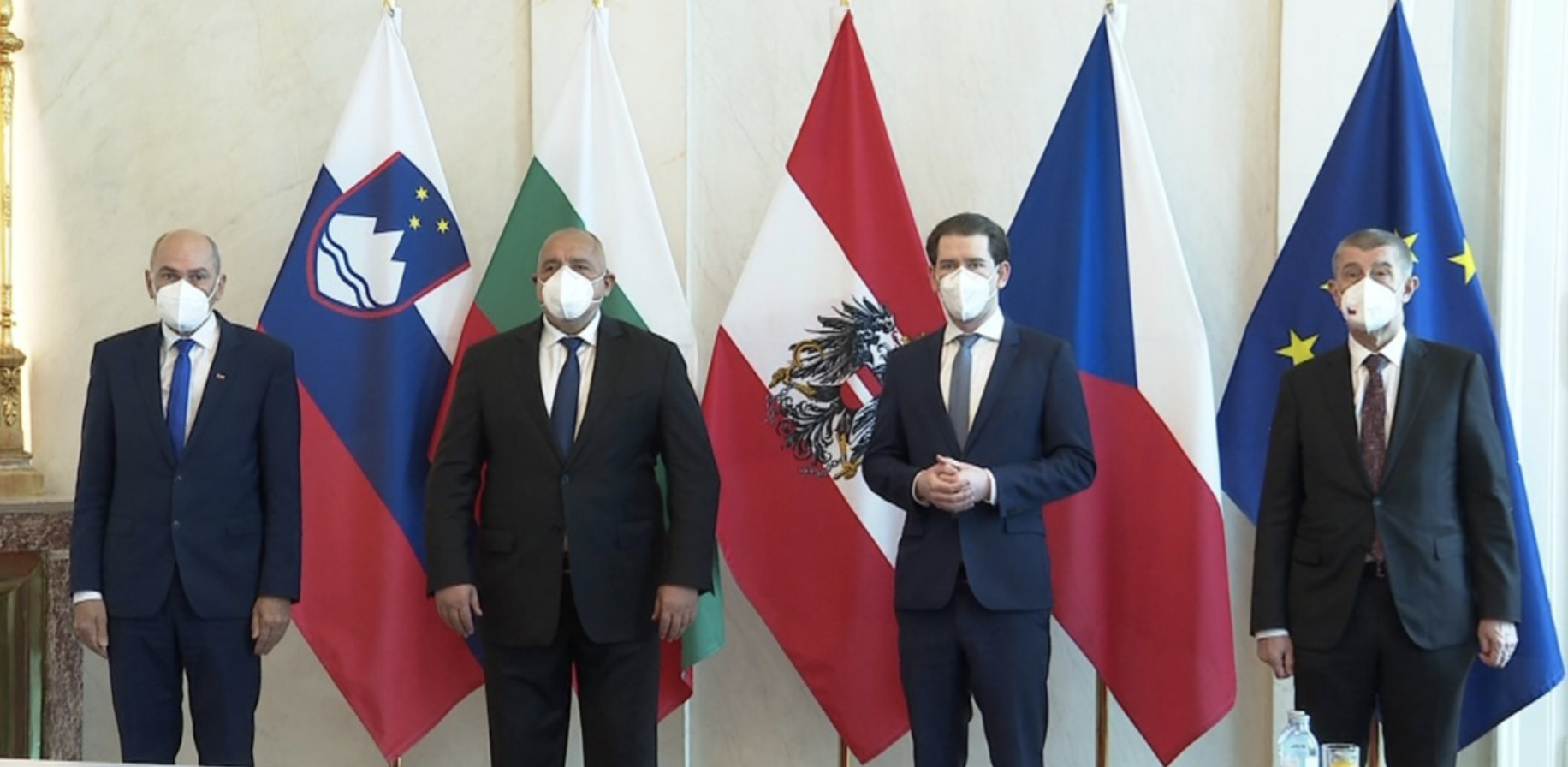 During a briefing after their meeting in Vienna, Bulgarian Prime Minister Boyko Borissov and his counterparts from Austria, the Czech Republic and Slovenia called for an adjustment to the distribution of COVID-19 vaccines to ensure that EU Member States supply them on a population-by-population basis.
In the Austrian capital, Bulgarian Prime Minister Boyko Borissov attended a working meeting with Austrian Chancellor Sebastian Kurz and the Prime Ministers of the Czech Republic Andrej Babiš, of Latvia Arturs Krišjānis Kariņš, of Slovenia Janez Janša and of Croatia Andrej Plenković. The topic of the meeting was the provision of COVID-19 vaccines in the countries of the European Union, but also some European leaders' call for a debate to be held at European level on this issue. During a briefing in Vienna after the meeting, the leaders stressed that their call was not to point fingers, but to find an immediate solution to the problem so that all European citizens can receive the vaccines.
"We have always believed in European solidarity and in the decisions of the European Council," said Prime Minister Boyko Borissov. The Prime Minister of Bulgaria recalled the conclusions of the European Council in January, which clearly defined the principle of proportional distribution of vaccines. "We have been given several vaccines that are just as good, and negotiations are led by the European Commission. The quality of the vaccines is guaranteed by the European Medicines Agency. We have purchased several million vaccines," Borissov said. The Bulgarian Prime Minister also highlighted the issue of the production companies not fulfilling their contracts. "In addition, they violate them because they do not respect the proportional distribution," he added. Borissov expressed concern about how the agreement reached by European Council leaders could be changed by a committee during the deliveries. "How can a Council decision be changed without us changing it ourselves?", the Prime Minister wondered.
"Our call is for this injustice to be fixed immediately and to proceed with what we have agreed on as a population percentage," said Prime Minister Boyko Borissov.
The Bulgarian Prime Minister added that he expects the injustice to be undone during tomorrow's meeting with European Commission President Ursula Von der Leyen and European Council President Charles Michel. "We are not asking for charity. Bulgaria has invested in the development of vaccines," Borissov said emphatically.
Austrian Chancellor Sebastian Kurz also commented on the supply of vaccines to Bulgaria. Kurz was adamant that there should be an adjustment to the current vaccination mechanism in the Member States so that Bulgaria does not receive a third less than other EU countries. "Solidarity must be implemented, differences in the EU must be minimized and the vaccination process must be successful," said the Austrian Chancellor.
The meeting held in Vienna is the continuation of the joint letter penned by the participants to European Council President Charles Michel and to European Commission President Ursula Von Der Leyen. In this letter, the leaders stressed the importance of European solidarity, which ensures that all Member States, no matter their size, have equal access to the currently limited resources of COVID-19 vaccines. In the letter it is also underlined that it must be ensured that all EU Member States will be able to meet the common vaccination targets set out by the EU for the second quarter of this year under the same conditions. /ibna