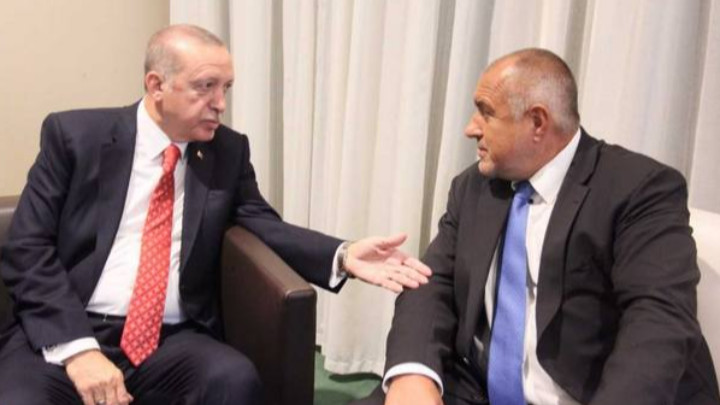 Bulgarian Prime Minister Boyko Borissov will meet with Turkish President Recep Tayyip Erdogan in Ankara on Monday, March 2nd. Their discussions will revolve around the situation in Syria as well as the situation with the refugees and immigrants.
During a working dinner on Monday, the two leaders will elaborate on actions to help deal with the crisis in Syria and reduce pressure by the immigrants in the region. Talks will be held within the framework of the Bulgaria-Turkey relations based on the principles of good neighborliness, equality and mutual benefit.
The meeting in Ankara between Prime Minister Boyko Borissov and President Recep Tayyip Erdogan confirms the strong ties between the two countries, which apart from being neighbors are also allies in NATO, as well as regional partners according to the government.
For Bulgaria, Turkey is seen as an important EU partner in addressing certain challenges such as pressure from immigrants in Europe, the fight against terrorism, energy supply and energy security, infrastructure, trade and the economy.
The Bulgarian Prime Minister also had talks with German Chancellor Angela Merkel and discussed the situation in Syria and the developments around the migration flows. The Bulgarian Prime Minister stressed that only through joint efforts and diplomacy could stability and security in the region be achieved, which would mean peace and prosperity for Europe.
During their conversation, Boyko Borissov pointed out to Chancellor Merkel that Turkey should not be left alone in such a situation, but instead it should be supported immediately. "We need a long-term solution to the problem of immigration", the Bulgarian Prime Minister stressed.
Earlier in a phone call with European Commission President Ursula Von der Leyen on the same issue, Boyko Borissov noted that migration pressure is not yet intense in Bulgaria and the situation at our border with Turkey is controlled.
During the talks it was concluded that the EC's top priority was to assure Greece and Bulgaria that they have the full support of the institution. The Commission was ready to provide additional assistance to both sides, including through Frontex for border regions.
Only through joint efforts and diplomacy can the problem of migration be resolved in the long term, Boyko Borissov told Ursula von der Leyen. /ibna