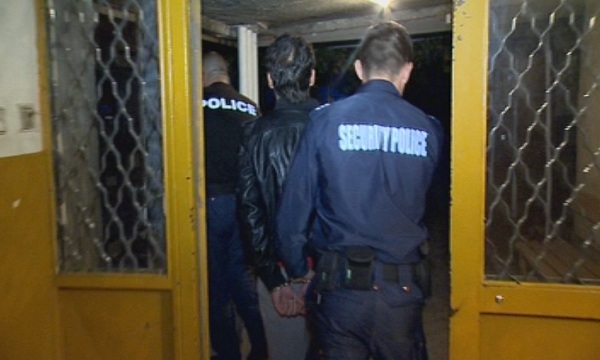 By Clive Leviev-Sawyer of the Sofia Globe
Bulgarian police have arrested four men – two Palestinians and two Syrians – after a television investigation exposed an alleged scheme for trafficking illegal immigrants through Bulgaria to countries to the west, mainly Serbia, Austria and Hungary.
The four arrested had come from Turkey illegally and two were to go on to Serbia.
An investigation by public broadcaster Bulgarian National Television found that a people-smuggling operation was based in capital city Sofia's Zaharna Fabrika area, where refugees illegally entering Bulgaria from Middle Eastern countries were lodged pending their departure westwards.
The investigation also found that there were Bulgarians assisting in the illegal operation.
The report included footage of a Syrian, filmed with his consent, speaking on the phone with an alleged smuggler to arrange a meeting.
The Syrian met in the city centre with the alleged smuggler's brother, who offered him a route via Serbia to Hungary, for a charge of "1300" per person – in the conversation, whether the denomination being referred to was euro or leva was not specified.
When the migrant reacted to the price, the smuggler replied that at the Women's Market in Sofia there were people who offered lower prices ("800, 900, 1000 per person") but these were not reliable.
The report quoted the smuggler as saying that the money would be held on deposit in Sofia and paid to him only when the person being trafficked reached his destination.
The report added the example of a woman living illegally in an apartment block in Zaharna Fabrika with her two children. She had paid more than 7000 euro to enter Bulgaria from Turkey, and was supposed to travel onwards to Serbia, Hungary and ultimately Sweden.
Meanwhile, there have been reports in recent days of illegal migrants being found at places along Bulgaria's northern Black Sea coast, in the Kavarna area.
On September 12, it was reported that the previous night, four male refugees attempting to travel by bus from Kavarna to Sofia had been detained, although one had managed to escape and was being sought by police.
This brought the total number of refugees detained in Kavarna recently to 26.
BNT said that the refugees detained in Kavarna were from Pakistan, Afghanistan and Syria.
A report by BNT on September 12 said that 22 people detained in the coastal village of St Nikola told authorities that they had boarded a boat in Istanbul and had been left on the Bulgarian seashore between the villages of Bolata and Rusalka.
It was not immediately clear how people had been on the vessel, as some said that there were 25 and others said 35.
Police were continuing to search for the rest.
St Nikola mayor Ivan Stoyanov said that one of the illegal migrants had told him that the fee had been 2500 euro a person.