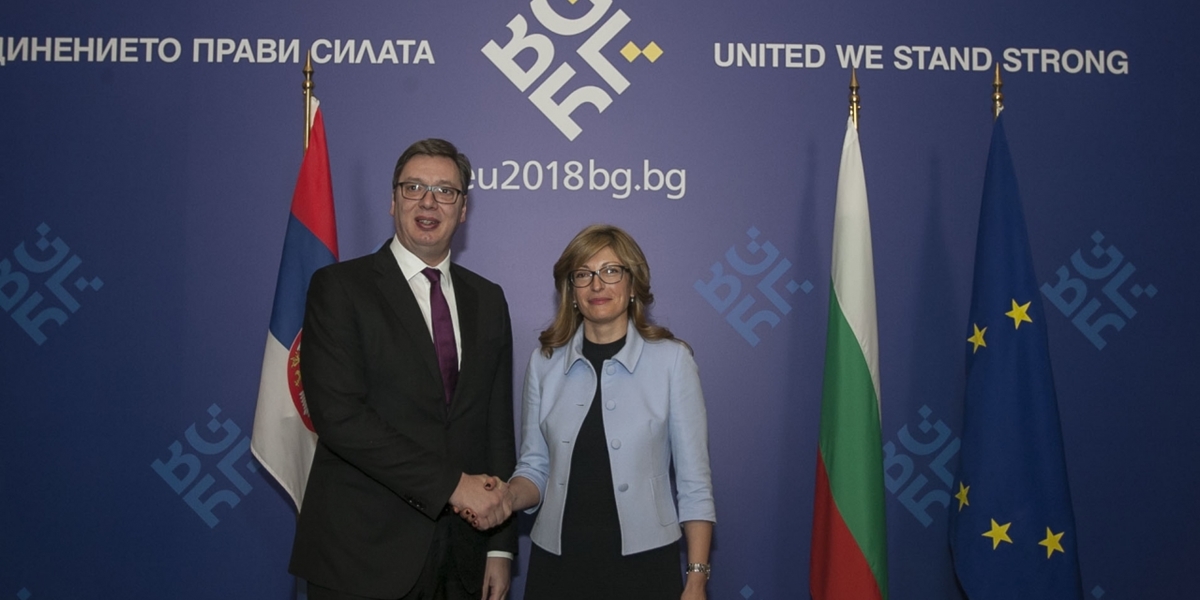 Three intergovernmental agreements, on rail transport, natural gas, and labour policies, were signed between Serbia and Bulgaria have been signed in the presence of visiting president Aleksandar Vučić and Bulgarian Foreign Minister Ekaterina Zaharieva.
In Sofia, Vučić and Zaharieva discussed issues of bilateral interest, as well as topics related to the Bulgarian Presidency of the Council of the EU, Bulgaria's Foreign Ministry said.
Zaharieva said that trade turnover between the two countries had risen by 40 per cent in 2017, which also had seen a 14 per cent increase in tourists.
She informed the Serbian president of the support that the Western Balkans Strategy received from EU foreign ministers during their informal meeting in Sofia.
The first of three agreements signed, by the respective ministers of the two countries, was a memorandum of understanding on improving the efficiency of rail transport.
This agreement deepens the cooperation in the construction of the railway infrastructure along transport corridor No 10. It states the general intention to explore the possibility of a joint approach to the European funds or other international institutions for the financing of the corridor projects. The agreement also provides for the introduction of more effective border controls to facilitate the passage of goods trains.
Also signed was a memorandum of understanding on co-operation between the Ministry of Transport, Information Technology and Communications of Bulgaria and the Ministry of Construction, Transport and Infrastructure of Serbia in the development of the Danube port infrastructure necessary for the storage and transport of liquefied natural gas.
This document will assist in the storage and transmission of liquefied natural gas between the two countries.
The signing of the document seeks to establish institutional co-operation in order to determine the profitability of the implementation of future infrastructure projects for the construction of port facilities needed to convey LNG on the Danube River in the context of the announced construction of a gas interconnection between Bulgaria and Serbia, the Foreign Ministry said.
The labour ministers of Bulgaria and Serbia signed a memorandum of understanding that provides for the two institutions to deepen the exchange of experiences and good practices for effective governance in the field of labour, employment, integration of people with disabilities, and early childhood development.
Bulgaria and Serbia will also work together to improve labour and social security legislation and implement state policies to promote employment and vocational training for employed and unemployed people, the Foreign Ministry said./IBNA
(Photo: mfa.bg)