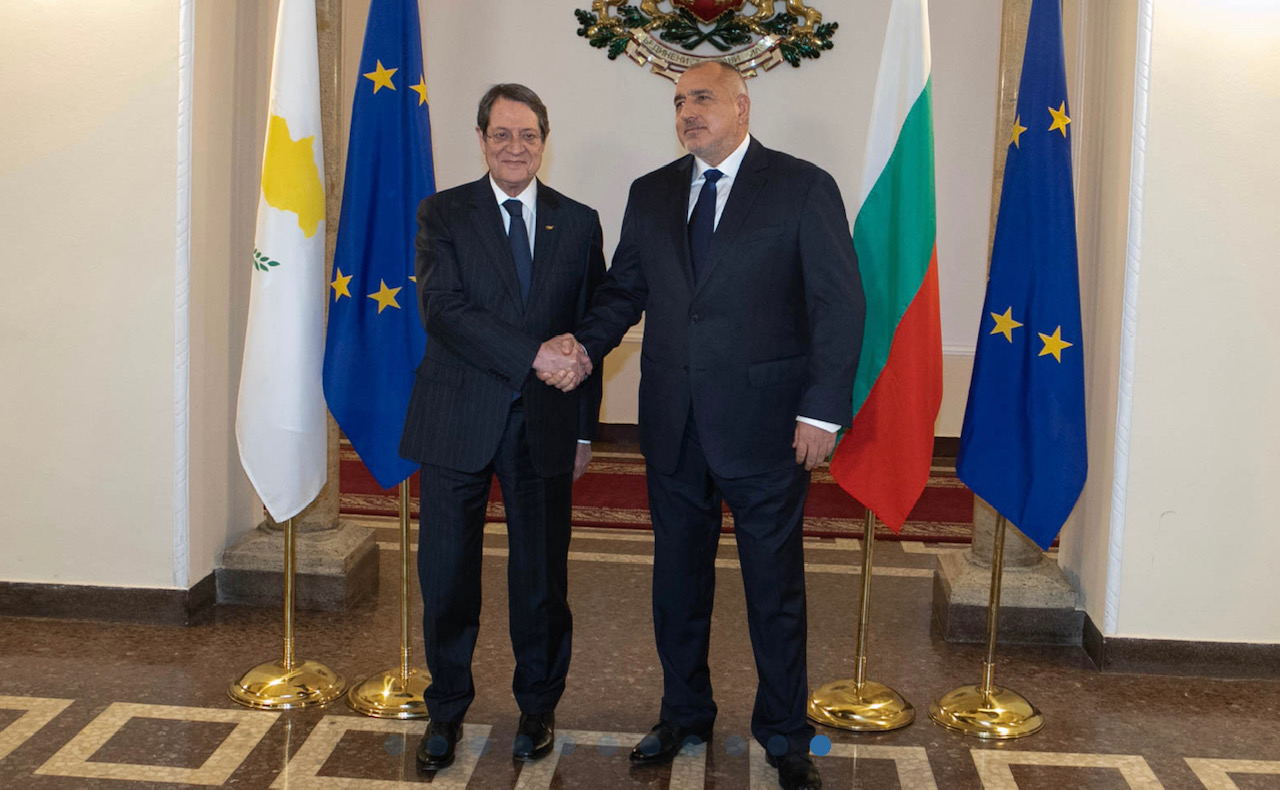 Bulgarian Prime Minister Boyko Borissov met today with the President of the Republic of Cyprus Nicos Anastasiades. The two leaders expressed concern about the spread of COVID-19 across Europe. Boyko Borissov and Nikos Anastasiadis said that good co-ordination between the European institutions was needed in order to respond adequately to the global challenge.
During their meeting, Borissov and Anastasiades discussed the constructive Bulgarian-Cypriot relations. On the occasion of the 60th anniversary of the establishment of diplomatic ties between the two countries, the expansion of political, economic and cultural contacts was praised.
"The Republic of Cyprus remains an important trading and economic partner of our country and is one of the leading investors in Bulgaria. We need to look for more opportunities to increase trade", Boyko Borissov said during the meeting. The Prime Minister also underlined the expansion of co-operation in the fields of agriculture, tourism, energy, culture, education and science, as well as the maritime sectors.
The Bulgarian Prime Minister's talks with the President of Cyprus also revolved around cooperation in the field of energy. The Bulgarian Prime Minister stressed that building the Greece-Bulgaria gas connection was vital as an input structure for gas imports from alternative sources for the entire Southeast European region. The interconnection line will also allow for gas imports from the Liquefied Natural Gas Terminal to the north Greek coast and the planned EastMed gas pipeline. "In this context, the Partnership for Energy on the Israel-Cyprus-Greece scheme is a strategic one," said Prime Minister Borissov, addressing Cypriot President Nicos Anastasiades.
During the meeting, Bulgarian Prime Minister Boyko Borissov stated that his country supported the signed agreement between Israel, Cyprus and Greece on the construction of the EastMed gas pipeline. "This energy project is of great geopolitical importance for the progress of the region and of Europe", the Bulgarian Prime Minister added.
For his part, President of Cyprus Nicos Anastasiades referred to the long-standing relations between the two countries, which are deepening and constantly strengthening.
He added that the more than 30 bilateral Agreements and Memoranda of Understanding and Cooperation between Cyprus and Bulgaria were proof of this, noting that "our ties are further strengthened also because of the Bulgarian authorities' stance regarding the Cyprus issue as well as through the country's contribution to UNFICYP, thus assisting in the prevalence of peace".
He further stated that their goal and expectation was to achieve energy synergies for the benefit of their states, as well as to create more synergies for the benefit of states in the region.
Bulgarian Prime Minister Boyko Borissov and Cypriot President Nicos Anastasiades also discussed current European issues, such as immigration, the Western Balkan enlargement, the multiannual financial framework and climate change. /ibna