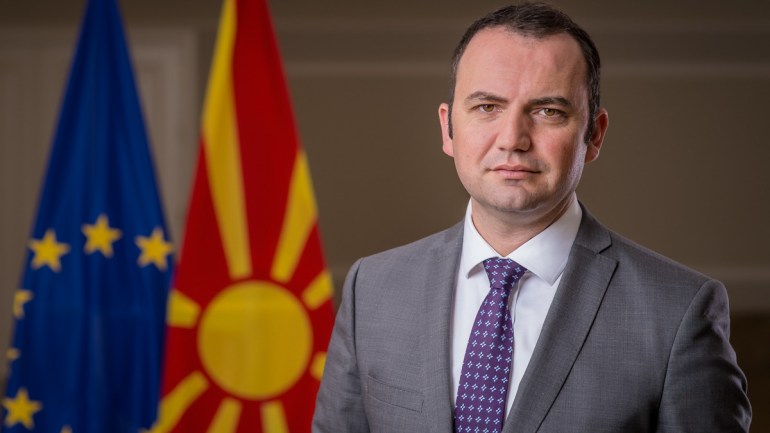 The candidate country, having found itself in an extremely difficult position, was forced to resort to China for vaccine supplies. Meanwhile, it continues to "knock on the EU's door." During his visit to Brussels, the Minister of Foreign Affairs of North Macedonia tried to put the accession process back on track, which this time has been blocked by Bulgaria, he says.
In an interview with La Libre and journalist Maria Udrescu, the Minister of Foreign Affairs of North Macedonia Bujar Osmani focused on the problems facing the country in the field of vaccinations. At a time when the 27 are outraged by the delays in the European coronavirus vaccination campaign, North Macedonia is still waiting for its own process to kick off. Like the rest of the Balkans, it has yet to receive a single dose of vaccines ordered under COVAX, the largely EU-funded UN program to supply vulnerable countries with vaccines. "We are the collateral loss of a process that did not live up to expectations regarding vaccine deliveries," says the neighboring country's foreign minister, who blames the bust mainly on drug companies that have failed to meet their obligations.
North Macedonia has prepaid 800,000 doses of vaccines under COVAX and also has a direct contract with Pfizer for another 800,000 doses, considering itself fully equipped: 1.6 million doses are enough to vaccinate its population. Yet so far they have not received any of those doses. Unfortunately, Osmani stresses, the Balkan countries are the losers in the context of wider regional competition and are thus subject to a geopolitical competition over vaccines. The country ordered 200,000 doses from China while seeking to protect itself from a geopolitical interpretation of this action. This is a temporary solution until the pre-paid vaccines arrive.
Osmani emphasizes that the prevailing feeling in the region is that it should have been part of the EU vaccination program from the beginning. "This would be the right approach for the EU, but also the right way for the EU to make strategic communication in the region. However, we are in a time of crisis and it is not possible to predict everything. The intention was there. The region has received significant support from the EU and NATO in the context of the pandemic. For 12 months, the region felt part of the EU. Unfortunately, this feeling did not peak when the vaccinations started," he explains.
Asked if he believes the EU has made mistakes in the Balkans in this regard, the Albanian-speaking politician notes that the EU should have realized that for the Balkan region the speed of vaccinations was initially more important than the total amount of doses. Additionally, it should have ensured that the vaccination campaign start in the Balkans simultaneously with the EU MS. "In such a case, we would have adapted jointly to the vaccine delays. The 27 share the vaccines with each other. Why not with the Balkan countries? Some Member States suggested that some batches are shared with us. But there seems to be a clause in the contracts that prohibits such a thing. Some countries even offered to host our citizens in their territory in order to vaccinate them. This was impossible to organize due to various travel restrictions. There was, therefore, some goodwill, but the vaccine purchase system did not live up to expectations."
As for the front of the negotiations blocked by Bulgaria, there is disappointment but not despair, "as for us there is no other alternative but the EU." The issues that need to be resolved, he points out, are historical and therefore emotionally charged. But with Bulgaria holding parliamentary elections in April, those sentiments are mounting. He emphasizes: "We can discuss history, but not in the perspective of identity revision, but rather in an educational perspective in order to eliminate stereotypes of the past that cause animosity between the two communities. To use history as a bridge and not as a wall."
Osmani deplores the fact that the lack of predictability has become a new feature of the accession process, which jeopardizes its very credibility. "The more the credibility of enlargement is affected, the weaker the region becomes and the more it is exposed to the influence of foreign actors, not only in terms of economy, but also in terms of security," he warns. /ibna