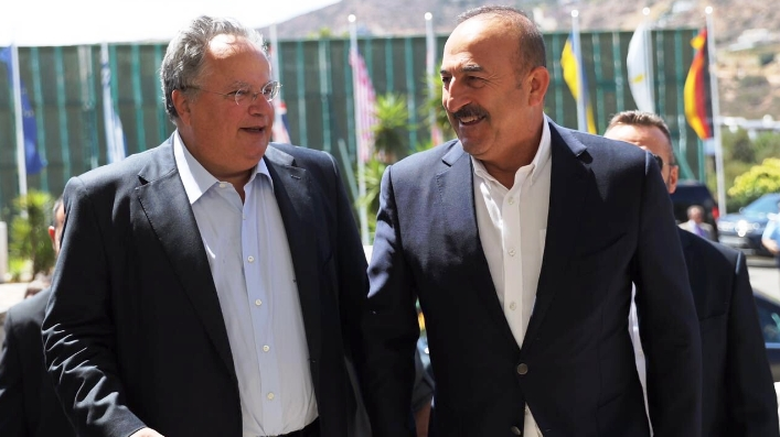 Elunda, August 29, 2016/Independent Balkan News Agency
By Spiros Sideris
Kotzias: The friend people of Turkey belongs to Europe and it can and should come to the EU if and when they meet all criteria
Without surprises on the agenda, the meeting and the working lunch Nikos Kotzia and Mevlut Cavusoglu took place as had been written by IBNA. Good relations between Greece and Turkey were confirmed during the unofficial visit of the Turkish Foreign Ministry in Crete and more specifically in Elounda, which once again after many years became a reference point for the foreign policy and international contacts of Greece.
With a symbolic visit to the Dikteon Andron, where according to mythology was born the Father of the ancient Greek Gods – it was he who kidnapped Europe and brought her to the Old Continent from Libya – Nikos Kotzias said: "I thought it right since our meeting was held in Crete, to come to the birthplace of Zeus and the place where he made the abduction of Europe, showing how we believe that the friend people of Turkey belongs to Europe and it can and should come to the EU, if and when it fulfills all the criteria".
According to the statements of the two Foreign Ministers, the matters discussed – as had been previously written and analyzed in IBNA – beyond bilateral relations between the two countries that were activated by the Senior Cooperation Agreement in Izmir, were the developments in the region, the war in the Middle East and the refugee issue, and the EU – Turkey rlations as these have formed after the failed coup in Turkey. Also on the discussion table was as expected the course of the Cyprus problem.
According to information of IBNA, there was discussion on the course of the talks and the results have brought the recent talks of President of Cyprus Nikos Anastasiades and the leader of the Turkish Cypriot side Mustafa Akıncı. The two FM Kotzias and Cavusoglu are awaiting the joint declarations on the course of the Cyprus issue on September 14, after the end of the round of talks in Cyprus.
On the issue of guarantees, there is a slight convergence but there is still no definitive decision on the role the sides involved will be called to play. The will shown by Mustafa Akinci for the convergence of a pentamer meeting in New York for the 71st UN General Assembly was not greeted neither by the Greek nor from Cypriot diplomacy.
Mevlut Cavusoglu briefed his Greek counterpart on the situation in Turkey after the failed coup attempt. He also informed him of the operations against the terrorist organization of Fethullah Gülen "FETO", the PKK and the ISIS.
What's more, there was an assessment of the MoUs between the two countries, of the agreements signed in March in Izmir and of the bilateral contacts at Secretaries General level that take place at regular intervals.
Nikos Kotzias and Mevlut Cavusoglu renewed their meeting for September in New York, for the 71st UN General Assembly.