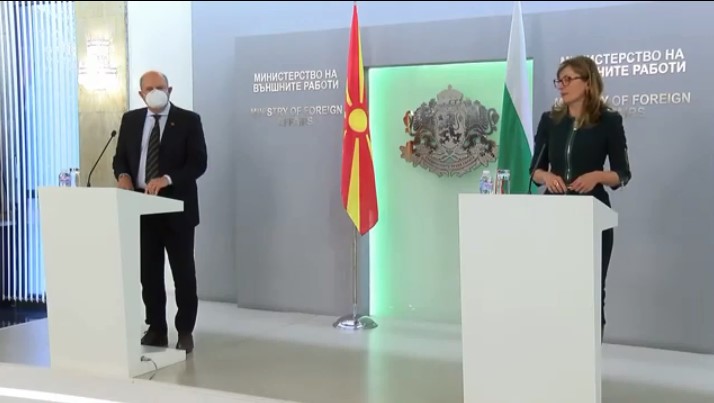 After Special Representative Vlado Buckovski conducted his first talks in Sofia, it appears that the loss of trust between the two countries has exacerbated and the issue will be approached as a priority in the coming period. Buckovski kicked off talks with Foreign Minister Ekaterina Zaharieva today in one-on-one meeting, before speaking with Deputy Foreign Minister of North Macedonia Zoran Popov.
At the joint press conference afterwards, during which Zaharieva was more talkative, the two agreed that the key to improving relations between the two countries laid in the restoration of trust.
"Neither I nor Miss Zaharieva can change common history. But we can change the project in infrastructure, in joint economic projects, in stronger cooperation in education, science and culture and the rapprochement of the two peoples," said Buckovski, stressing that his task would be to coordinate the implementation of the Good Neighborliness Agreement, "but not the historical aspect of it."
Buckovski claims that he assured Minister Zaharieva that North Macedonia is determined to implement the Agreement and that means are needed for it. "It will be a roadmap, a roadmap; but we are convinced that it will be a tool with which we will secure any acquis in the coming period." He also noted that he was pleased that Bulgaria considered his appointment to be a step towards restoring confidence.
"We agreed that in the future we should find pride in what we have done; actions instead of empty words."
Zaharieva, who tried to find the right words to comment on the veto, took the floor first saying that what happened in Brussels was not a veto. She reiterated Sofia's well-known views on their action; unilateral blockade of the historical committee, administrative obstacles for the Bulgarian operation and slowing down corridor 8.
"Bulgaria shows desire for negotiations. However, the anti-Bulgarian campaign in North Macedonia and in international  organizations must stop," Zaharieva said. As she claimed, it was not only unacceptable for them, but also counter-productive.
"Step by step we must regain the lost trust. As in the last two months, today we are shaking hands," said the Bulgarian Foreign Minister.
Following these statements, Buckovski withdrew from the press conference and Zaharieva stayed and answered a few more questions from Bulgarian journalists, stressing that "to be a member of the European family you must be friends with its members".
Vlado Buckovski is also scheduled to meet with Prime Minister Boyko Borissov, Deputy Prime Minister Krasimir Karakachanov and President Rumen Radev. /ibna