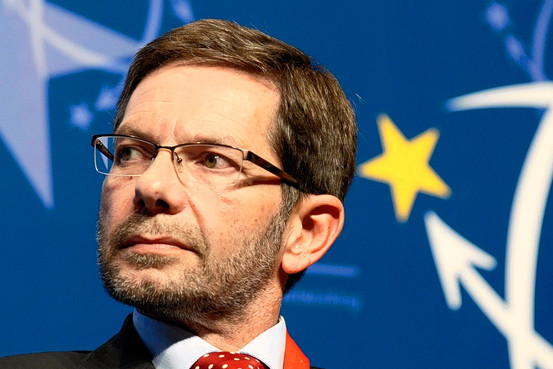 By Daniel Stroe – Bucharest
The investment decision for developing the Nabucco project will be taken in 2013 while the actual construction will start in 2015, Reinhard Mitscheck(photo), executive director of Nabucco Gas Pipeline International Gmb, said today during the Nabucco Consortium meeting held in Bucharest.
"All the necessary steps for continuing the Nabucco project have been taken. The investment decision is to be taken this year while the construction of the gas pipe is to start in 2015" he said in his speech.
Bucharest hosted today the Nabucco Committee meeting, a coordination structure of the countries and companies involved in developing this project. The meeting comes to highlight the latest progress made in this project and will reconfirm the political support it has among the partners countries. It also seeks to stress the regional importance of the project which looks to offering a high degree of energetic security of an expanding market in Central and South-East Europe.
Following the first meeting in Kayseri, Turkey, in 2011, when the Nabucco Committee was founded, the previous meetings were held in Vienna, in 2012, and Sofia and Budapest in 2013.
Nabucco will transport the natural gas to the European markets during the second exploration phase of the Shah Deniz deposit, the largest gas reserves in Azerbaijan. Nabucco will be the main transport route of natural gas in Central and South-East Europe
Romania is involved in this project through the company SNTGN Transgaz, but also at a governmental level, after signing in July 2009 the Inter-governmental Agreement concerning the development of the Nabucco project and the project support agreement ]n June 2011. At the same time, Romania has finalized the evaluation of the project environmental project.
Speaking at the meeting, Romanian PM Victor Ponta said the Chamber of Deputies, the lower chamber of the Romanian Parliament, was to pass the special law for the Nabucco section that will transit the country. He called on all the European states, one day before the European Council dedicated to Europe's energy security, to support the project which represents, in his view, "a correct and sustainable vision for the development of the European Union"
The Nabucco pipeline will join the Trans-Anatolian Pipeline at the Turkish-Bulgarian border, then crossing Bulgaria, Romania and Hungary up to the Central European redistribution terminal in Baumbarten, Austria. The terminal will then supply natural gas to about 500 million customers in Europe.