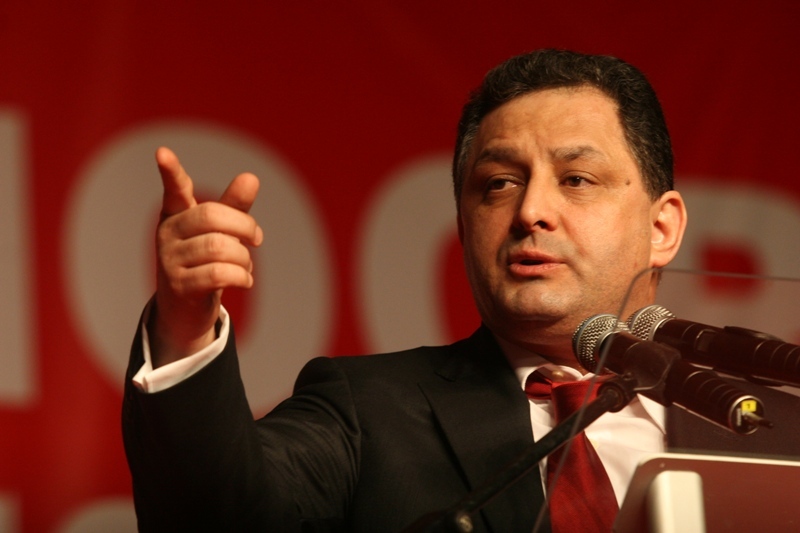 Bucharest, March 12, 2015/ Independent Balkan News Agency
By Daniel Stroe
Anti-corruption prosecutors today combed the house of Marian Vanghelie (photo), mayor of Bucharest's District 5, who is suspected of charging hefty commissions for public contracts awarded by his town hall, the latest stage in an ample anti-graft drive in Romania.
Vanghelie was escorted out of his home by police after five hours of search and taken to the premises of the District 5 town hall where prosecutors continued the search. Judicial sources disclosed Vanghelie is suspected of charging a 20% commission of the total value of the contracts his town hall has so far granted. The mayor secured the money by means of a network of firms, one of them managed by his companion, Oana Niculescu-Mizil, a lawmaker in the Romanian Parliament.
She was interrogated today by anti-corruption prosecutors. She later said she would resign from the Romanian Parliament. Nine locations in Bucharest and Ilfov County were today searched in the same file, the National Anti-Corruption Department (DNA) announced.
As a guarantee he would pay the 20 % commission, one of the contractors ceded the ownership of one of the firms involved in contracts with the District 5 town hall to Vanghelie's driver. The total value of the public contracts the mayor is deemed to have asked commissions for rises to 2 billion lei (450 million Euros).
"The commission was paid, in some cases, as contracts concluded by a company owned by Marin Dumitru ( a businessman), by means of off-shore companies, and companies controlled by the mayor by in-betweens. Among the companies that have received such contracts is one administered de facto by Oana Niculescu-Mizil", sources said.
Moreover, prosecutors suspect Vanghelie and a cousin of his, Mircea Sorin Niculae, bought real estate, as of 2007, using the money received out of these illegal practices. The real estate was then integrated in the patrimony of the companies they controlled to hide the illegal acquisition.
Vanghelie, mayor of District 5 since 2000 and an exotic Romanian politician who was often mocked for his Romanian language difficulties, was last year expelled from PM Victor Ponta's social-democratic party after he asked Ponta to quit the party leadership and assume the defeat in November's presidential elections. Vanghelie and another member, Mircea Geoana, former minister of Foreign Affairs and presidential finalist in 2009, formed a new party – the Romanian Social Party – early this month. Vanghelie alleges the anti-corruption investigation against him was ordered by Ponta, his now political rival.