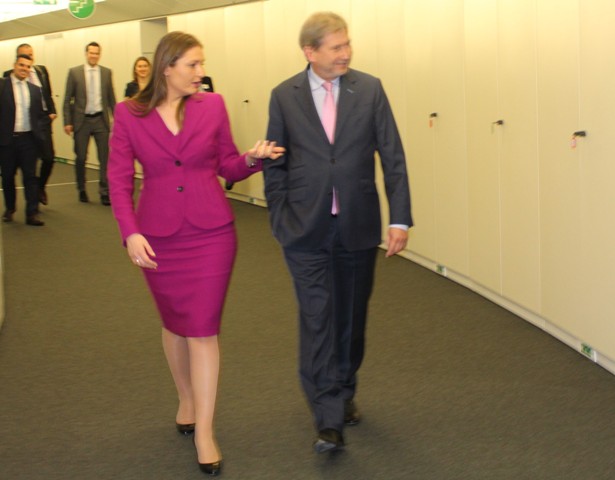 Tirana, March 20, 2015/Independent Balkan News Agency
The Commissioner for European Neighbourhood Policy & Enlargement Negotiations, Johannes Hahn, says that the process of Albania's accession in the European Union, is not being influenced by external factors which can slow down or stop this objective.
Hahn declared this during a meeting that he held in Brussels with Albanian European Integration Minister, Klajda Gjosha (photo).
"In Albania's case, the path of integration is clear and it is not influenced by external factors or direct problems with other countries. Therefore, there must be a focus on reforms in order for the process to move forward. We're here to support Albania to advance in the path that it has started", said Hahn.
"The speed with which it advances depends on the ability of Albania to deliver these reforms, which we will carefully scrutinize", he added.
The commissioner underlines that the concrete results that Albania must have in the consolidation of the rule of law, are crucial for the advancement in the integration process.
"It's important to move forward in the implementation of legislation, because the process of integration for any country that aspires to become and EU member, doesn't only relate to the harmonization of legislation with the EU, but with the implementation of this legislation in practice", says commissioner Hahn.
In the bilateral meeting, Hahn and Gjosha also talked about the approach of the Balkan with Europe. They agreed that the new approach after the Berlin process is the best stimulus to boost cooperation of these countries with each other. Joint projects provide a new relation not only between these countries, but also between them and the European Union, said the two interlocutors.
Albanian government is awaiting a date for the start of negotiations for EU accession. Last year, Albania was granted the EU candidate status, but no date was issued about the start of negotiations.
So far, nobody is talking about a possible date.
However, the Albanian government hopes that until the end of the year, Brussels may issue a proposal for the opening of negotiations. /ibna/