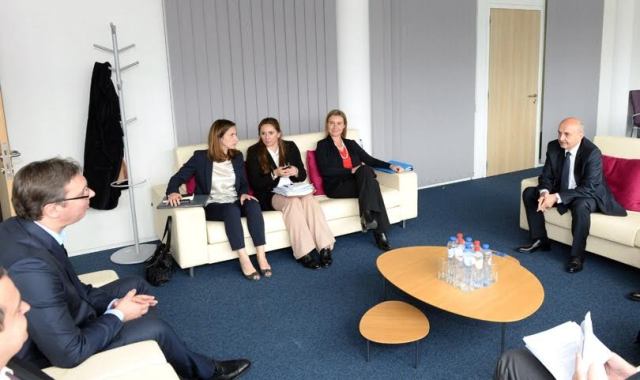 Pristina, 21 January 2016/ Independent Balkan News Agency
By Elton Tota
The European Union has started to prepare the next round of talks for the normalization of relations between Kosovo and Serbia.
The spokeswoman of the EU head of diplomacy, Maja Kociancic, declared that this meeting is expected to be a high level meeting.
"At this stage, all I can tell you is that the preparations for the next round of high level talks continue. The meeting has been scheduled to take place at the end of January", Kocijancic said.
EU Enlargement Commissioner, Johannes Hahn said during the debate held in the European Parliament before the voting of the Stabilization and Association Agreement that dialogue between the two countries must continue and that there is no other alternative.
Hahn said that SAA obliges Kosovo to normalize relations with neighbors.
"This means that dialogue is a legal obligation. It's necessary for Kosovo to implement the agreements that have been reached and continue to work for further agreements, which as we have seen in the last few months, often involve difficult decisions and the need for compromise", said the European diplomat.
Meanwhile, Valon Murtezaj, advisor to Kosovo's Prime Minister, Isa Mustafa says that it is not yet known if there will be a meeting between the two prime ministers.
"Efforts are being made in many directions. Kosovo has always been constructive and will continue to be. The prime minister is focused on the process of the liberalization of visas, because citizens of Kosovo deserve to be equal to the citizens of Europe. The preparations for the new round of talks are made in agreement with all three sides. Official channels are working on this, but it is not yet known if there will be a fresh meeting on 27 January", Murtezaj declared.
On the other hand, the Serb government has confirmed for the media its participation in the talks which are expected to take place at the end of this month.
The head of the so called Office for Kosovo at the Serb Government, Marko Djuric, has declared that the Serb government's delegation will participate in the fresh round of talks between Kosovo and Serbia which will be held on 27 January in Brussels.
Meanwhile, as far as the Agreement for the Association of Serb Communes is concerned, Djuric said that he has never declared that it will not be reviewed.
"We are going to Brussels to send clear messages for the international community and Albanian representatives that we want to implement the agreement as a whole", Djuric said. /ibna/