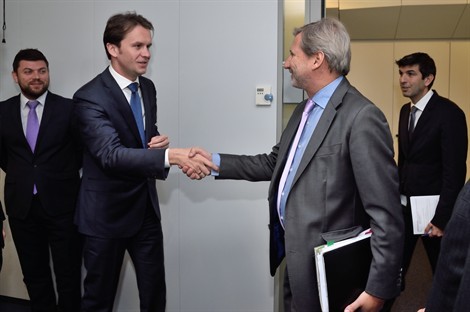 By Adnan Prekic – Podgorica
In the coming year Montenegro is expected to yield concrete results regarding the strengthening of rule of law, stressed Montenegrin Interior Minister Rasko Konjevic and European Commissioner for Neighbourhood Policy and accession talks Johannes Hahn.
Minister of Internal Affairs, Rasko Konjevic, during his official visit to Brussels met with the European Commissioner for Neighbourhood Policy and the accession negotiations Johannes Hahn. The European Commissioner told the Montenegrin Minister that the policy of enlargement will continue to remain one of the priorities of the European Union. Han pointed out that this idea will soon be clearly promoted during his first visit to the Western Balkans.
Minister Konjevic informed the Commissioner on the implementation of the five priorities that have been jointly defined with the European Commission. Konjevic and Han noted that for the Western Balkan countries, including Montenegro, is extremely important to continue to develop the economy, particularly with the countries of the region, in order to achieve other goals that are common in the accession process. They also discussed the reform of public administration, for which the European Commission will particularly insist.
European Commissioner said that in 2015 they expect concrete results from Montenegro in the strengthening of the rule of law. By the end of the year it is necessary to adopt a number of laws that need to be new preconditions, the institutional framework for the fight against corruption and organized crime.
European Commissioner for Neighbourhood Policy and enlargement negotiations, Johannes Hahn, will pay an official visit to Montenegro on November 21. The Commissioner's visit to the country is part of his plan for the beginning of his term of office to visit all countries of the Western Balkans. During his visit, Hahn will meet the government officials and other key partners to encourage them to continue the reform process through the enlargement negotiations.
The new EU report on Montenegro will likely be stricter than the previous ones, stressing the need for judicial reforms and guarantees of media freedom. The European Commission concluded that the country continues to sufficiently meet the political criteria, made further progress in establishing a functioning market economy and has improved its ability to take on the obligations of EU membership. EU will note modest progress in Montenegro's membership negotiations – but not in some key areas, such as the judiciary and the fight against organized crime and corruption.