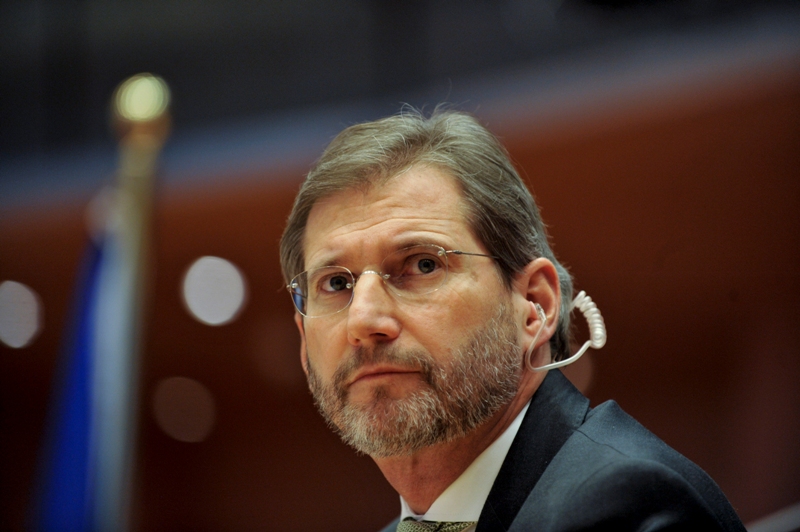 IBNA Special Report
Tirana, February 17, 2015/Independent Balkan News Agency
Brussels doesn't see any urgent situation in Tirana which would lead to diplomatic movements and negotiations of EU representatives with Albanian politicians.
EU Enlargement Commissioner, Johannes Hahn, has started a tour of talks in the region and said today that Albania doesn't result to be problematic, in order to involve Tirana in his agenda and this second tour of talks will be focused in Skopje and Pristina.
Mr. Hahn says that a visit on his part would imply an emergency.
"I truly don't have a date as to when I will visit Albania, but I will soon be there. This must not be seen as a justification, but it has a positive explanation. In general, travelling to somewhere means that there's an emergency. Not to travel somewhere means that there are no problems for the moment", says Mr. Hahn.
Concerns about the situation of security in Albania
Commissioner Hahn also talks about the threat to security in Albania following the explosive blasts of the recent days. He's optimistic that the government has the situation under control and that efforts are being made to address the situation with crime.
"Of course we're worried about all these, but on the other hand, the discovery of the cocaine lab in Elbasan and the arrests show that such thing is possible. I'm hoping that the investigation on the bomb explosions will yield a positive result too. However, there are security concerns, but I want to see the glass half full and not half empty. Therefore, I'm more inclined to see things going in the right direction. The current situation seems difficult, but there are indicators that measures are being taken and results are being yielded. But there still remains a lot to do. Of course, the information that Albania results to be a transit country for the traffic of weapons must be addressed seriously", said Johannes Hahn today.
As far as the enlargement process is concerned, we must all be ambitious and engaged, but also patient and determined, said Hahn. According to the Commissioner, while no associate member is ready for accession, many countries of the region have made progress. Rule of law, fight against corruption, economic development, the positive environment for domestic businesses and foreign investors, freedom of speech, the adaption to European practice and its application in practice, remain important challenges for the countries of the region. The Commissioner recalled the Berlin, Vienna and Paris incentive for strengthening ties in the Balkan and the funding of joint projects in technology, education and energy, where water remains the best source of renewable energy, according to him. Besides the pre accession funds, the Commission is also looking into the opportunity of funding through the European facilitation of ties, an instrument which is used to help ties between member countries.
***
Commissioner Hahn is convinced that he will be in Albania within this year. He will be in Albania to watch the football match between Albanians and Serbs. "I have promised this, although the match will be held in October, that I will be there to watch the football match between Serbia and Albania, in Shkoder. I will be there", said Mr. Hahn.
Meanwhile, the Commissioner is expected to participate in the high level dialogue which is held in mid March this year. /ibna/