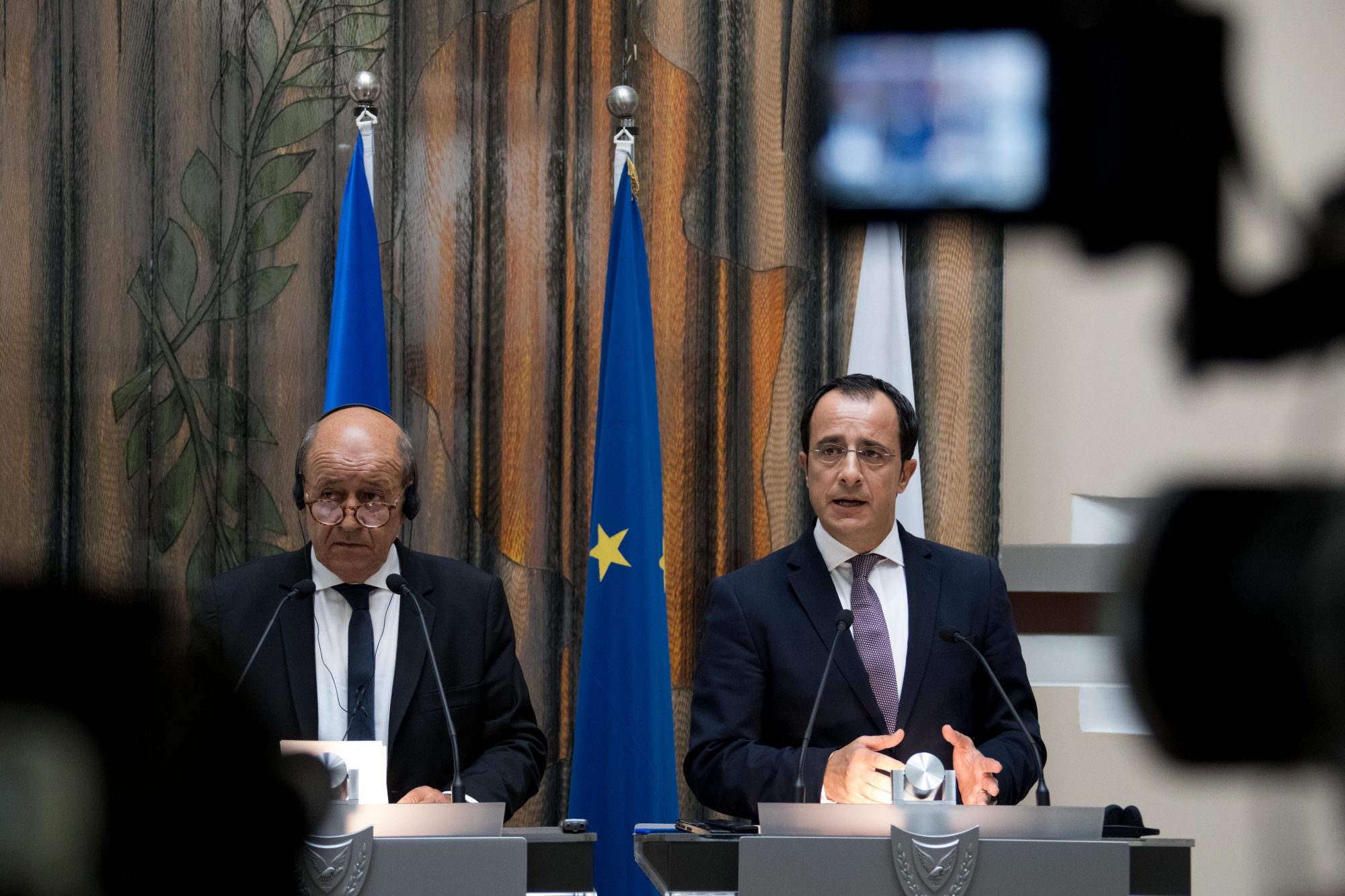 French Foreign Minister Jean-Yves Le Drian was welcomed in Nicosia by his counterpart Nikos Christodoulides.
The two men after the private meeting they held, gave a joint press conference. In their statements, the two ministers referred to the traditionally close relations between Cyprus and France, which have developed to such an extent that "they are at their best", as noted by Nikos Christodoulides.
The talks confirmed that the two countries shared the same values ​​with a common vision of prosperity and security in Europe, and extensive discussions were held on bilateral relations with the participation of the Ministers of Defence and Energy.
The interests of the two countries are common in a number of areas, as Nikos Christodoulides pointed out, showcased by the excellent co-operation in the fields of energy and defence.
The Cypriot Foreign Minister briefed his French counterpart on developments in the Cyprus issue and the efforts of the UN Secretary-General, Antonio Guterres to resume negotiations for a solution to the Cyprus problem.
At this point, Nikos Christodoulides expressed the deepest appreciation of Cyprus for the constructive attitude of France on the Cyprus issue as a member of the EU but also as a permanent member of the Security Council.
For his part, Le Drian noted that France is in favour of the reunification of the island, based on the Bi-zonal Bi-communal Federation, and is also reporting to the UN Security Council. He added that the Cyprus problem in 2004 became also a European issue. "We are looking forward to Mrs Lute's reports and we want the negotiations to resume. France is at your disposal for help. We wish that negotiations resume soon, but also to see them move forward", he concluded.
At the same time, Cyprus' energy plans within its EEZ, were presented, with Mr. Christodoulides expressing his utmost satisfaction with the exchange of views on the matter.
Moreover, topics on the agenda were issues concerning Europe, as well as the relations between the European Union and Turkey. Also, the migration was discussed, which, as the Foreign Minister said, is causing fears to EU authorities after current developments. Regarding PESCO, Christodoulides said that he considers it important for the strengthening of the EU, with Cyprus co-operating with France in four programmes. The Cypriot FM also stressed that broadening the co-operation with France at all levels is a priority for the government of Cyprus, who spoke of a "Cypriot strategic agenda". Jean-Yves Le Drian noted that "the friendship between the two countries leads us to in-depth relationships." "We talked about European issues and issues that heavily burden the Eastern Mediterranean. I can say there is a convergence of views on all issues", he added.
Finally, the French Foreign Minister stressed that the two sides reaffirmed their will for a more united Europe, while stressing that "It is our desire to work even further, something that Macron and Anastasiades want"….. / IBNA
Main Photo: Minister of Foreign Affairs of Cyprus, Nikos Christodoulides (R) with his counterpart of France, Jean-Yves Le Drian, at the joint presser in Nicosia