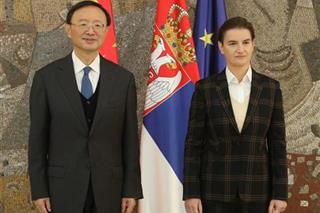 Today, during a conversation with Yang Jiechi, member of the Politburo of the Central Committee of the Communist Party of China, Prime Minister Ana Brnabic stated that Serbia would continue to develop a well-established and integrated strategic partnership with this country, and hopes to expand cooperation in infrastructure, economy and technological innovation projects, which are of the utmost importance for both states.
The Prime Minister of Serbia is convinced that the new government-designate will continue to work to further improve overall relations with China as one of the main foreign policy priorities, because, as she stressed, the long-standing steel friendship is not only politically important, but also implies a high degree of mutual understanding that will contribute to the country's economic development and improve the quality of life of all Serbian citizens.
Brnabic thanked her interlocutor for the support and assistance provided by China during the coronavirus pandemic, as well as for the fact that work on some of the most important infrastructure projects did not stop at that time, as announced by the government's office for cooperation with the media.
Regarding economic co-operation, the Prime Minister stressed that the development of artificial intelligence, technology and technological progress was essential for Serbia.
"Serbia strongly supports China both bilaterally and multilaterally, including President Xi Jinping's Access and Roads Initiative and the 17+1 Cooperation Mechanism, in the context of which most of Serbia's infrastructure and strategy projects will be realized", Brnabic said.
As she stressed, it is extremely important to start work on the Frushkogorski corridor and the Belgrade metro as soon as possible.
They also discussed possible co-operation with Chinese companies for the construction of Railway 10 and the Belgrade-Nis line.
Yang Jieshi, who is also the director of the Foreign Affairs Bureau of the CCP Central Committee, said he would brief the Chinese President and Prime Minister on all the details of the talks, convinced that there would be more new joint plans between Serbia and China.
He added that he still expects Serbia's support and the continuation of multilateral co-operation in the fight against Covid-19.
Yang Jiechi congratulated Prime Minister Brnabic on the progress of Serbia and Belgrade in social and economic development, and thanked her for her personal commitment to improving practical co-operation between the two friendly countries.
He expressed particular satisfaction with the fact that Brnabic will be invited to the online "Pujiang Innovation Forum" in Shanghai, as stated in the announcement./ibna