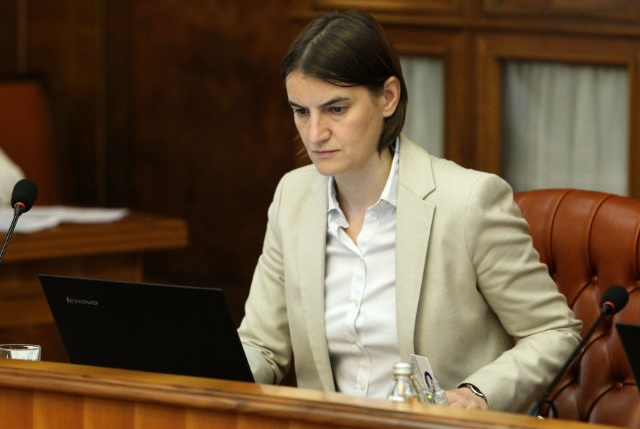 Seven days after Radovan Karadzic has been sentenced to life in prison, Serbian officials have not commented on the verdict issued by The Hague Tribunal.
Prime Minister Ana Brnabic did not want to comment on the decision by which former Bosnian Serbs leader has been found guilty of genocide, war crimes and crimes against humanity.
On Wednesday, Brnanic said that "government and the president of Serbia" have expressed "clear position" after the first instance verdict in 2016 – which was 40 years in prison.
"Serbia is focusing on the future", the premier said.
"We will do our best to continue to improve regional cooperation and stability without referring to the past", Brnabic went on, reiterating that "we all should focus on the future".
According to accounts, the graffiti "Radovan Karadzic hero" appeared in Novi Sad on Wednesday. The same graffiti had been made several days ago in Belgrade, near Kalemegdan park, one of the most favorite tourist points; the far right Serbian Radical Party organized a protest after the verdict was issued.
Defense minister "regrets" because NATO does not admit to the crime
At the same time, defense minister Aleksandar Vulin said that he "regrets because NATO has no courage to say that the bombing of Yugoslavia was a mistake and a terrible crime".
"And it was a crime", Vulin said, commenting the statement by the NATO secretary general Jens Stoltenberg who said that the 1999 air campaign was not "directed against the people".
At the commemoration held last week, President Aleksandar Vucic was seen as crying.
Experts say that officials, but also opposition leaders, are refraining from talking about any kind of responsibility on the part of Serbia for the Yugoslav wars in 1990s.
"While I have been watching the appearance of Serbian president… I was thinking how easy it is to cry, and even more to pretend that you are crying", said law professor Vesna Rakic Vodinelic.
"If we feel regret for the children (victims)… if the President of Serbia expresses sorrow for the children, I wander what is with Albanian children, with children of other ethnicities. We do not feel sorrow for them? What with the Roma people, for instance? Do we mourn only those who are Serbs", she told Danas daily./ibna