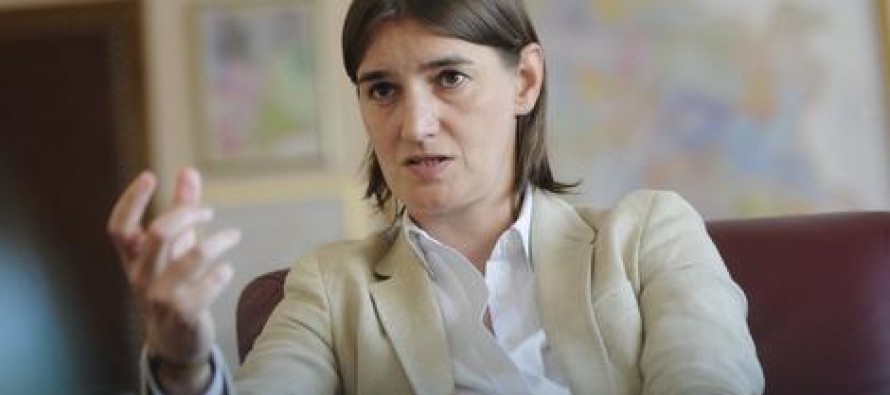 Ana Brnabic, new prime minister of Serbia, says that she respects European Union, Russia and United States, but that she is "committed only and exclusively to the progress of Serbia and all its citizens". In the interview for the Russian TV Sputnik, Brnabic said that she considers herself "a serious patriot".
"I think that I share with the patriots all so-called traditional values, love towards the country, family, loyalty to the country, to the friends… At the same time, Serbia should recognize what the new trends are, the new trends in politics and economy", Ana Brnabic explained.
When asked about the "interpretations" that foreign minister Ivica Dacic would be in charge for the political issues in her cabinet, she said that "maybe too much fame" were behind them. Last month, when president Aleksandar Vucic announced that Brnabic would be new premier, he said that her domain would be economy, while Dacic would focus on politics.
"There is only one prime minister. The first vice PM Ivica Dacic is also foreign minister. He certainly has significantly more political experience than me, and I, as prime minister, would surely count on his political experience as well as on the political experience, knowledge and reputation of the president of the republic abroad; I think that there should be no doubts that this would be the team that would work in the best interest of Serbia", new premier said.
Considering defense issues, she said that "at this moment military neutrality is the best and the only acceptable position of Serbia". The issue of possible Serbia's accession to NATO, according to Brnabic, was not "urgent" and should be answered by the whole society. She noticed, however, that almost all neighboring countries are NATO members.
When it comes to Serbian-Russian humanitarian center in Nis, PM said that this topic was on the government's "priority list"; Brnabic added that the solution for its status should be found soon. This issue was, according to her, "too politicized"./ΙΒΝΑ