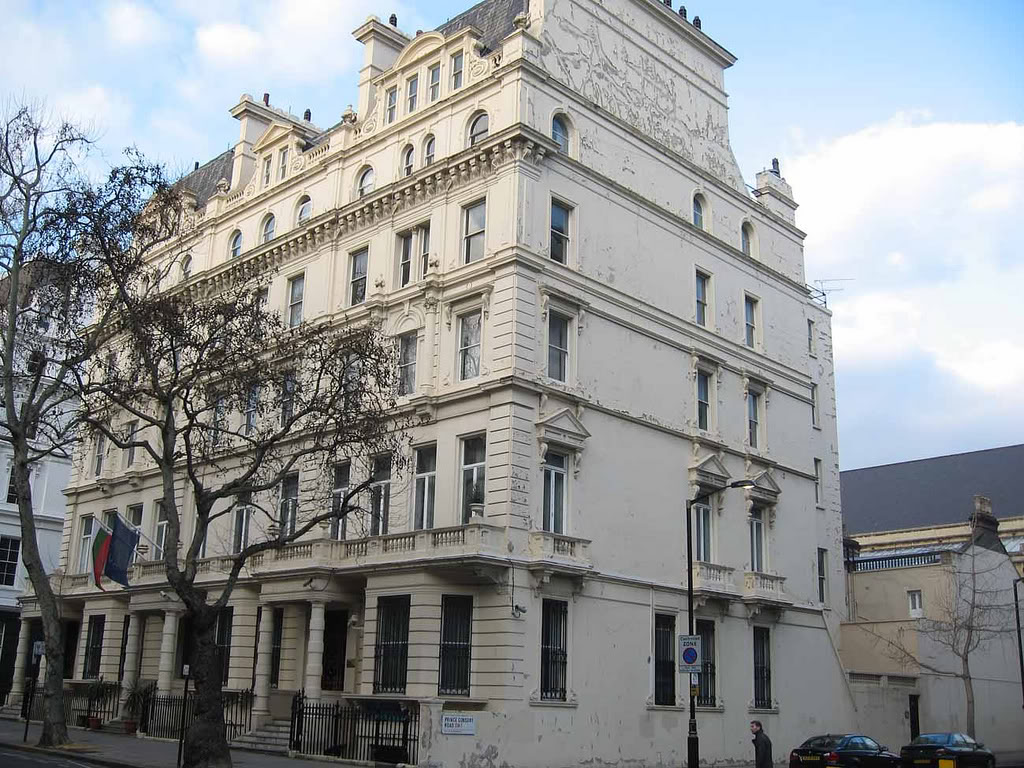 By Clive Leviev-Sawyer of The Sofia Globe
Bulgaria's ambassador in London, Konstantin Dimitrov, has sharply criticised certain British politicians and media for making his country a "scapegoat" in a campaign whipping up hysteria about supposed hordes of Bulgarians and Romanians who will go to the UK when labour market restrictions are lifted in 2014.
For several months, some British media and politicians have been citing unofficial projections, emanating from an anti-immigration think-tank, that hundreds of thousands of Bulgarians and Romanians will move to the UK when restrictions on labour market access for citizens of the two countries, which joined the European Union in 2007, expire.
No official figures of estimates of arrivals have been released. In the controversy, anti-immigration commentators have alleged that the Bulgarians and Romanians, once in the UK, will scrounge off the social benefits system.
Bulgarian leaders repeatedly have rejected these allegations, while in turn, British government figures and its ambassadors in Sofia and Bucharest have repeated that there will be no discrimination against Bulgarians and Romanians.
UK foreign secretary William Hague, in a letter to Bulgaria's Prime Minister and Foreign Minister Marin Raykov in March 2013, said that the UK would "honour its obligations under the Treaty of Accession of Bulgaria and Romania to the EU and will suspend transitional controls on the free movement of labour of Bulgarian citizens by the end of this year."
"The British Government is working to prevent siphoning of social funds and tourism with the goal of exploiting social assistance. This, however, applies to all immigrants from all countries of the European Union and beyond, and is not aimed at any particular country," Hague said.
In London, Dimitrov criticised those opposed to the January 1 2014 removal of labour market restrictions as having "weak" arguments.
Dimitrov, who is due to be heard on April 23 by the home affairs committee of the lower house of the British parliament, said that some political headquarters and media had used Bulgaria as a "scapegoat". The way that Bulgarians were portrayed was sometimes offensive and bordered on the defamatory, he said.
These critics could not "distinguish between labour market access and misuse of social benefits". Bulgarians were not even in the top 20 of nationals who abused the UK's social system, Dimitrov said.
Evidence that the idea that Bulgarians and Romanians would flood the UK in 2014 was wildly overstated also came with an April 22 report on polls conducted by the BBC.
The coming lifting of work restrictions for migrants from Romania and Bulgaria has had little impact on the numbers of people planning to move to the UK or wider EU, BBC Newsnight polls suggest.
BBC surveys in each country, both of more than 1000 people, suggest most would move only with a firm work offer.
When asked whether in the past five years they had considered moving to live and work in another EU member state, 33 per cent of the 1101 Romanians polled said yes, 67 per cent said no. Of the 1014 people questioned in Bulgaria, 37 per cent said yes, 63 per cent said no.
When all of those polled were asked to pick their first choice of EU country to move to in either 2013 or 2014, 4.6 per cent of Romanians and 9.3 per cent of Bulgarians chose the UK. These numbers rose to 8.2 per cent for Romanians and 13.6 per cent for Bulgarians when they were asked directly about whether they would consider the UK as a destination, the BBC reported.
Meanwhile, Bulgarian MEP Ivailo Kalfin assured UK Independence Party leader Nigel Farage, who has been a prominent figure in the controversy about the lifting of the labour market restrictions, that hordes of hungry Bulgarians and Romanians would in no way flood the UK and take away its social benefits. Kalfin gave Farage a watch as a present so that it reminds him every minute that he is not right about Bulgarians, Bulgarian media said.