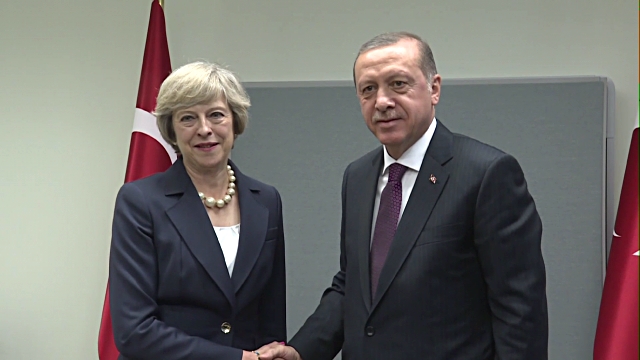 The UK Prime Minister Theresa May will be paying an official visit to Ankara on Saturday, 28 January for meetings with President Erdogan and Prime Minister Yildirim.
She will be flying to the Turkish capital straight from Washington D.C. where the previous day she will have been the first foreign leader to be received by the new US President Donald Trump at the White House.
"The Prime Minister decided early on after taking up her duties that Turkey would be one of the countries that she would want to visit sooner rather than later, as it is such an important partner on security, defence and trade," a Downing Street spokeswoman said ahead of the visit.
She added that the visit will be an opportunity to discuss the bilateral cooperation on security issues, such as intelligence sharing and combating Daesh in Iraq and Syria.
UK government sources have been saying that Theresa May considers Turkey an "indispensable partner and close ally", and the trip to Ankara to meet Mr Erdogan right after the meeting with the new US President attests to the importance that London attributes to a good relationship with a leader that has been described as "increasingly unpredictable", even by friends of Turkey in Whitehall.
Turkey's role in NATO, in Syria – especially after the shared engagement with Russia, in controlling the refugee crisis, in battling international terrorism and its status as a big regional trade power make the country an invaluable partner for the UK, especially as it is preparing to exit the EU family.
Another aspect of the relationship between the two countries is their involvement in the ongoing Cyprus settlement talks. Speaking at the House of Commons ahead of her trip, Theresa May said she was "hopeful the talks will be able to continue to come to a solution; I think we are closer to a solution than we have been before. I have already talked both to PM Tsipras and to President Erdogan already about the need to ensure that we are creative in the thinking and finding a solution for this and I had further telephone call with Nicos Anastasiades over the weekend about this very issue."
She added: "We stand ready as a guarantor to pay our part to ensure that we can see a successful conclusion of these talks and see that reunification of Cyprus which people have been working for for some time."
The Prime Minister's spokeswoman said that Mrs May would convey to Ankara her Government's will to continue helping in keeping up the momentum in the Cyprus settlement talks and to assist in reaching a positive outcome.
The Prime Minister has also been urged to raise the need to respect human rights in Turkey and to make sure the reaction to the recent coup attempt is proportional, during her meeting with President Erdogan./ΙΒΝΑ