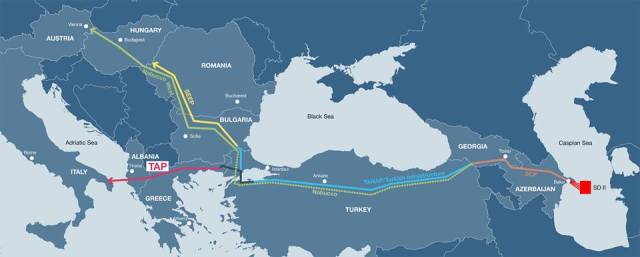 Tirana, June 28, 2013
The Azeri "Shah Deniz II" consortium selected TAP pipeline project as the winner for the distribution of gas in Europe, by avoiding Russia, declared today the regional director of the British giant "British Petroleum", Gordon Birrell.
The consortium which is comprised of "British Petroleum", "Statoil" (Norway), "Total" (France) and "Socar" (Azerbaijan), chose this project over "Nabucco West".
Austrian energy group OMV, one of the investors of "Nabucco West" declared on Wednesday that the project had been refused by "Shah-Deniz II".
Trans Adriatic Pipeline will connect the Greek-Turkish border with Italy, going through Greece and Albania and then to Adriatic. In the first stage, the pipeline will take 10 billion cube meters of gas to the Italian market.
"Nabucco West" project, which was supported by the European Commission, was thought to reach Austrian through the Bulgarian-Turkish border.
"We were in front of two great projects. At the end, we chose the most serious project", declared the regional director of British Petroleum, Gordon Birrel.
"Nabucco" consortium, comprised of the Austrian OMV, Hungarian MOL, Romanian "Transgaz", Bulgarian "Bulgargas", Turkish "Botas" and French "GDF Suez" said that although their project was not selected, they would continue their efforts to exploit alternative sources of gas.
"The need for diversification remains a challenge for the European market, especially for Central and Southeastern European countries. We're still convinced that Nabucco's itinerary is the only alternative to meet these needs", states the press release of the consortium. /ibna/