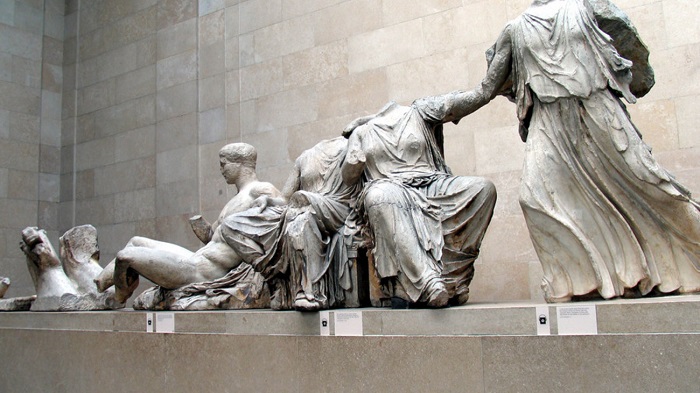 The British Museum has welcomed an addition to the EU's Brexit negotiating mandate relating to the repatriation of stolen artefacts, dismissing reports that it could bring about a Greece-led European demand for the restitution of the Parthenon Sculptures.
The added paragraph in the draft text of the negotiating mandate ahead of the second phase of talks on Brexit, pertaining to the future relationship between the UK and the EU once the current transition period has ended, refers to the need for an arrangement for "the return or the restitution of unlawfully removed cultural objects to their countries of origin".
Initial reports, mainly in the UK media, assessed that the paragraph referred to or could be referring to the Parthenon Sculptures in London, taken from Athens by Lord Elgin.
The contentious issue has for two centuries now been a cause of friction between London and Athens, with Greeks campaigning for the restitution of the unique classical artefact in its place of birth.
However, diplomatic sources have made clear to the Independent Balkan News Agency that the addition in the EU mandate has nothing to do with the Sculptures and that it is a necessary part of a deal so as to continue with the coordinated fight against illicit trade of looted artefacts, frequently exposed in London's big auction houses.
According to a well-placed diplomat, "the new clause in the mandate in essence fills the gap left by Brexit in the UK's obligation to comply with a 2014 EU Directive describing how antiquities stolen from 1993 onwards can be returned to the member-state of their origin."
In this regard, the British Museum issued this statement to IBNA: "The British Museum welcomes this mandate which reflects the 1970 UNESCO convention that the Museum abides by. The British Museum is committed to fighting the trade in illicit antiquities across the world. Since 2009, the British Museum has identified and returned over 2,400 antiquities of all periods which were illegally excavated at sites across Afghanistan, Iraq and Uzbekistan and trafficked abroad, but seized and investigated by the UK Border Force, Her Majesty's Revenue & Customs and the Metropolitan Police."
The British Museum and the UK Government stand by the legality of the Sculptures' presence in London. While such a position is widely and increasingly disputed, the Greek government has been placing its emphasis in the fight to reunite the marvel of ancient Athens on public, academic, political and moral opinion pressure./ibna