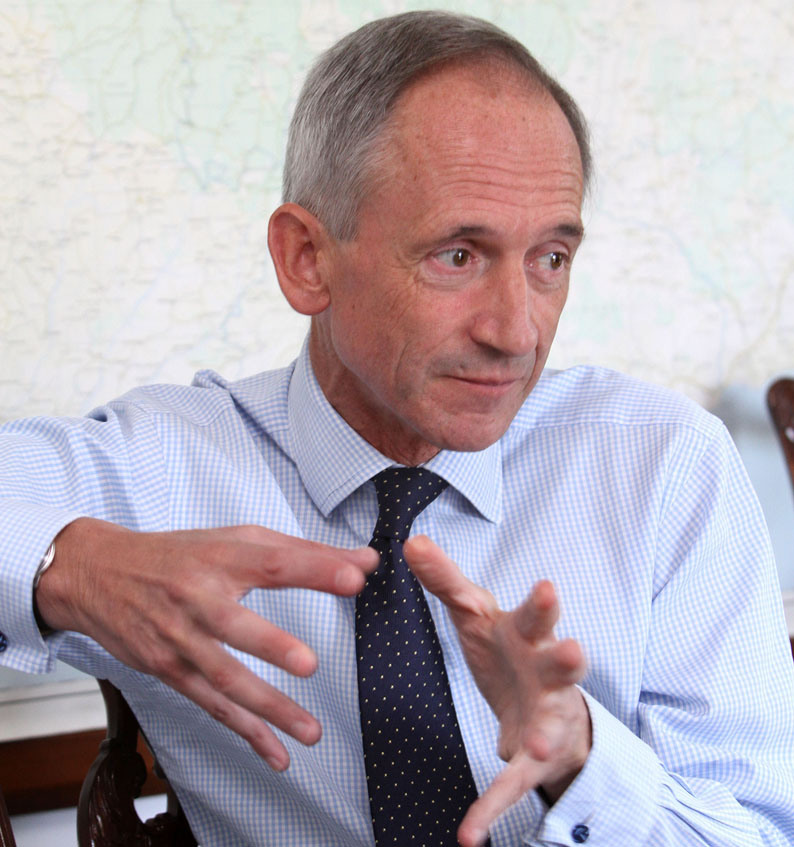 By Thanasis Gavos – London
The United Kingdom could potentially play "more active support role" in the efforts to achieve a workable solution to the Cyprus problem, said the outgoing British High Commissioner to the Cyprus Republic Matthew Kidd.
Delivering the 6th Keith Kyle lecture in London on Thursday evening, Mr Kidd -who will be replaced in August after a four-year stint in Nicosia- spoke of positive changes in the atmosphere of the bilateral relations between Cyprus and the UK which could be further exploited.
Referring to the possible results of this improved atmosphere Mr Kidd noted that there is scope for the UK "to be trusted to be a more active support player" in the Cyprus issue settlement deliberations.
"We are not going to solve it and quite rightly we will not be allowed to solve it, but I think we do have and we try our best to have a level of engagement and trust and understanding with all the players than need to be involved to enable us to be part of the facilitation, the creation and encouragement of opportunities," elaborated the experienced British diplomat.
The other potential outcome of the improved relations between the two countries could be the collaboration in promoting the energy prospects of Cyprus into a vehicle for supporting a model for cooperation and development for the whole of the region.
Then Mr Kidd turned his attention to the British Sovereign Bases Areas on the island, expressing the hope that the achieved better level of trust provided a better opportunity "to try to achieve a new sort of understanding with the Cypriots on how the bases serve not just UK national interests, but also a broader European security interest of which Cyprus as a member of the EU is now a shareholder too."
In attempting to define the reasons behind the improved trust between Cyprus and the UK these last few years, Matthew Kidd initially referred to the passage of generations and time, which probably made some controversial issues "less acutely sensitive."
He added, inter alia, that the common membership of the EU and the regular discussions on a series of issues which it entails has also helped, as well as the bilateral decision already in place since 2009 to collaborate on matters such as education, football hooliganism and road safety.
He added that the crisis in Cyprus has generally led many to rethink previous assumptions and that also the British have "absorbed lessons" from 2004 and the failed Annan plan process, in terms of how external players should or should not act in the framework of supporting settlement efforts.