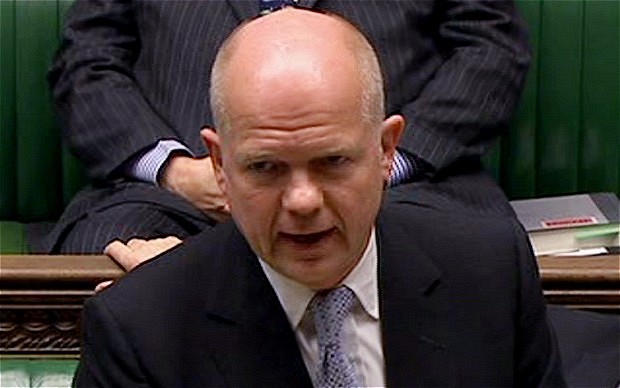 By Milos Mitrovic – Belgade
The Brussels agreement about the normalization of the relations between Belgrade and Pristina should be implemented effectively. The progress in the implementation process will be the guarantee for the start of the accession negotiations between the European Union and Serbia. Those were the key messages that British Foreign Minister William Hague delivered to Serbian top officials during his visit to Belgrade on Thursday.
"The implementation of the Brussels agreement will also provide security and stability to Serbian citizens", William Hague said after the meeting with Serbian Prime Minister Ivica Dacic. "The objective of Serbia is a fair resolution of the problems in Kosovo and Metohija. Great Britain should support the improvement of the position of the Serbs in Kosovo and Metohija", Ivica Dacic said. He stressed that Serbia fulfilled all the conditions for the beginning of the accession negotiations with the EU.
Serbia does not recognize the independence of Kosovo, and considers it as its the Autonomous Province of Kosovo and Metohija.
British Foreign Minister also met Serbian Deputy PM Aleksandar Vucic. The aim of his visit was to encourage Serbia on its European path, Hague told Vucic.
Vucic reiterated that Serbia fulfilled preconditions to get the date for the beginning of the negotiations with the EU. He expressed the expectation that EU would appreciate the efforts of Serbia. Belgrade expects that European leaders would grant the date for the start of the negotiations at the EU summit on June 28th.
Serbia has considered that the date for the accession negotiations is very important, but Belgrade would not do anything in the last moment, or under pressure, Serbian President Tomislav Nikolic said during his meeting with British FM.
Serbian Foreign Minister Ivan Mrkic told his British counterpart that "the substance and the quality" regarding the implementation of the Brussels agreement should be more important than the rapidity of the process. Serbian Ministry of Foreign Affairs stated that Hague was rather optimistic considering EU's decision about the date.
"I am here to support you, just as my colleague Guido Westerwelle has already done", Hague recalled the recent visit of German Foreign Minister to Belgrade.
Earlier on Thursday, the German Government announced that the reforms undertaken by Serbia met the conditions for the opening of the accession negotiations and that recommended that Bundestag should approve this decision. However, Serbia should take "visible and permanent steps" to implement the Brussels agreement, it was announced in Berlin.