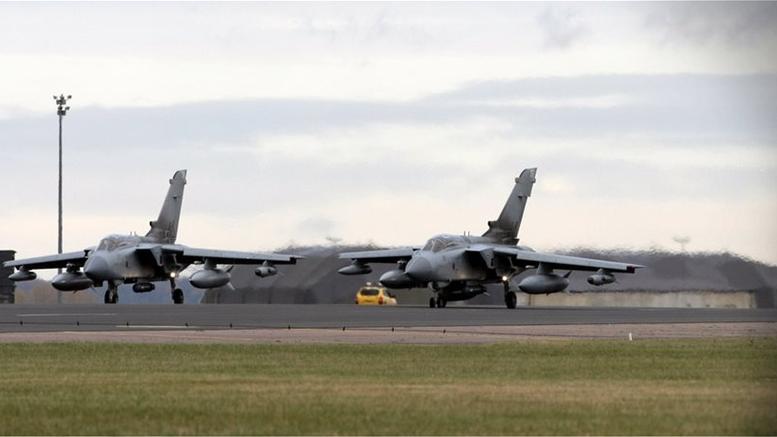 London, December 1, 2015/Independent Balkan News Agency
By Thanasis Gavos
The House of Commons in London will debate Prime Minister Cameron's motion for RAF airstrikes against ISIS targets in Syria on Wednesday, following the Labour Party leader Jeremy Corbyn's decision to allow his MPs a free vote.
Mr Cameron had repeatedly said that he would bring his proposal to the Commons for approval only if he felt certain he would get a clear majority, with all commentators agreeing that such a clear majority is now at the least 'probable'.
That means that the UK would mark a significant change in tactics in its war against the jihadists (which started 14 months ago with airstrikes in Iraq), alongside other Western and Arab allies. This expansion of military operations could take place within 36 hours of the British MPs giving the signal, experts say. On that account, even by Friday evening Cyprus, the RAF base in Akrotiri in particular, could be involved in attacks on ISIS in Raqqa and the rest of Syria.
Akrotiri has been the main springboard for sorties by UK jets that participate in strikes in Iraq. Eight RAF Tornados GR-4 have been doing their part in the operations against ISIS. These will now be reinforced with at least two more aircraft of the same type and six Typhoons. According to the Times, 120 personnel are also on stand-by to join their 450 colleagues already in Akrotiri.
Cyprus will be 'upgraded' in the war against ISIS with the British expansion of military operations, a fact that the Republic's government accepts as something between a necessity and an opportunity to demonstrate its firm commitment to an international cause embraced by both western and eastern allies. All the more so since Turkey has been the object of criticism by various voices as an unreliable ally on this matter.
Cyprus has already offered France the use of a base in Paphos should it need assistance in its operations in Syria, following the devastating Paris terror attacks. The French have also been offered use of RAF Akrotiri by the British as a 'diversionary corridor'.
All this intense military activity has of course raised concerns about the security of the island, at a time when ISIS has started demonstrating its capability to bring the war onto European soil and also at a time when it is becoming increasingly obvious that terrorists have been exploiting the tragedy of the refugees in order to gain access to the West.
Nevertheless, Cyprus, the UK and the rest of the allies on this side of the battlefield consider the island to be as secure as any country could be under such circumstances and at such a geographical spot.
As the BBC recently reported, "Cyprus enjoys good relations with its Arab neighbours and Israel, and is closely monitored by anti-terrorism experts, stationed at Western and other embassies in Nicosia, who co-operate closely with Cyprus's intelligence services."
A diplomatic source told IBNA that this was an accurate assessment of the security situation. "Cyprus maintains an excellent relationship with the West, both sides of the Atlantic, Israel and Arab countries – even Russia. We are supporting the operations fully to the degree that we can. This is not about Cyprus, but about defending the whole modern world's safety and way of living."