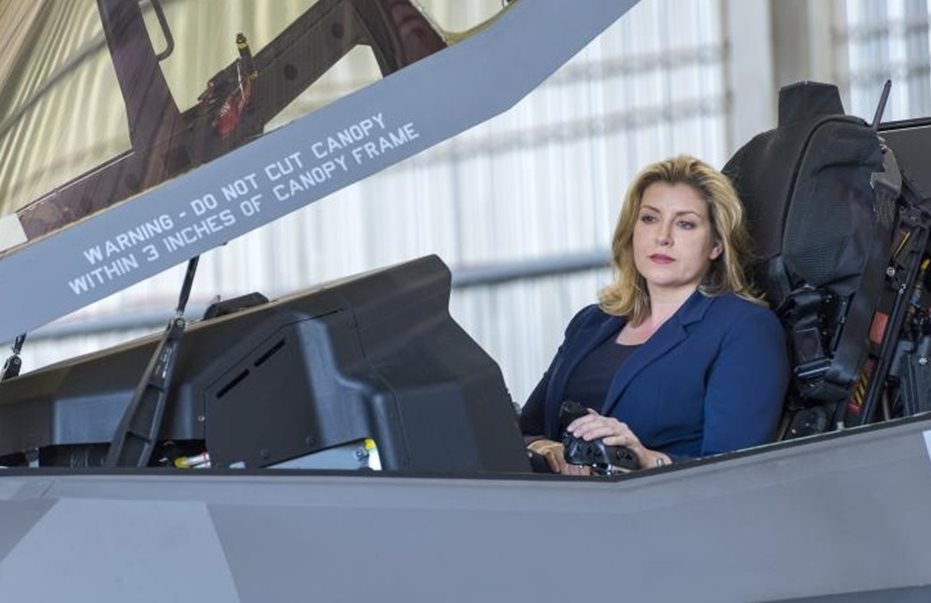 The revelations were made in the framework of an official visit to the state
By Michalis Michael
The operational activity of the fifth generation F-35 fighter jets, from the British Base RAF Akrotiri on Cyprus to Syria and Iraq, was formally confirmed yesterday by the British Defence minister, Penny Mordaunt. As part of her official visit to the island, Mordaunt visited the Base Akrotiri yesterday, where she was informed of the successful participation of the F-35s, from 16 June, in fourteen in total missions over Syria and Iraq.
As indicated in the media briefing, the new fighter planes have not used their weapons but are involved in identification/support missions. It is reminded that the six F-35s of the 617th platoon at RAF Marham, Norfolk, have been located since May 21- and for the first time out of the UK- at the Akrotiri Base, while it had originally been said that their presence would be limited to the participation in an overseas exercise "Lightning Dawn" and the training of pilots and ground staff.
The F-35s are important
The F-35 has shown during this time how amazing they are and this is why last week, we moved them into operations over Syria and Iraq, said the British minister in her statements for KYPE and RIK. She has confirmed that the F-35s have not used their weapons systems and that their role is limited to identification/supportive missions, but stressed that they are ready to do so, if necessary.
"The operation (against the Islamic state) is moving along well," she said, and noticed that there is no longer the same tension in these missions in the area, compared to a few years ago. When asked if the F-35s will remain at the Akrotiti Air Base, Ms. Mordaunt replied negatively, saying that within the year they will be deployed onto the British aircraft carrier HMS Queen Elizabeth, in order to participate in other missions around the world.
"However, I find it wonderful they are here in Cyprus and I am particularly proud that their first operational deployment is from RAF Akrotiri," she added. She also said that the commission of the F-35s is part of the planned equipment program and underlined that it is expected to play an important role for the future of the Royal Air Force and the British Armed Forces as a whole, as a flexible fighter with great potential.
She also added that this was her first visit to Cyprus as Defence minister, while she has visited the island twice before as a state official. After being informed of the skills of the ultra-modern fighter jets, Penny Mordaunt sat in the cockpit, and afterwards she watched the take-off of an F-35 aircraft from the airport at the RAF Base Akrotiri./ibna