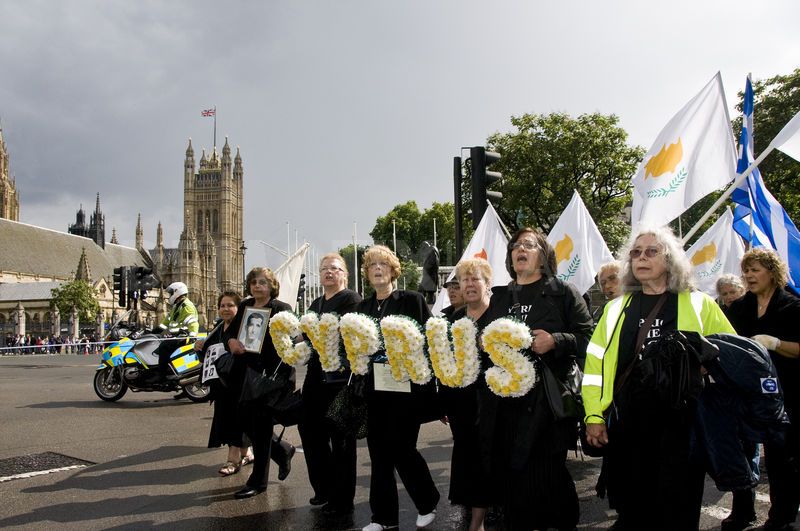 By Thanasis Gavos – London
The concurrence of this year's UK parties' conferences with the preparatory stages of the new negotiations over the Cyprus issue has upgraded the role of the organised Cypriot presence in Brighton (for the Labour party event) and in Manchester (for the Conservatives' conference).
Even before the Tory party gets together from 29 September to 2 October, the Conservatives for Cyprus group – made up of eminent members of the organised diaspora – held a meeting at Westminster with one of the party's vice-chairmen. A few days later, a fringe event during the Brighton conference saw the Labour shadow Minister for Europe Emma Reynolds meeting representatives of the National Federation of Cypriots in the UK who hosted the event in association with the Labour Cypriot Society.
In both instances the Cypriot delegates left with pledges of support for the pursuit of a just and viable solution in Cyprus, as well as promises of closer cooperation in all aspects of the relationship between the two countries.
The meeting with the Conservative party official, attended by ministers and Tory members of Parliament, was described as particularly encouraging and satisfactory, while the Labour conference fringe event drew in the political crowds, as heavyweights and backbenchers of Ed Miliband's team reiterated their commitment to helping Cyprus reunify.
To what extent do or can occasions like these really make a difference though? "The Cypriot delegations to the conferences are always well prepared and focused. And there are so many friends of Cyprus in both parties, so they always welcome the opportunity to remind everyone else that the Cyprus issue requires our attendance – even more so now that we are facing a renewed effort to reach a negotiated solution," says a junior member of the Conservative party's army of consultants.
Now, whether this attention evaporates straight after each meeting or not could be a matter of discussion. But in politics, in the end, everything is accounted for. "They need our help in getting votes in areas with a big Greek Cypriot population, so we ask them for their support in our cause in exchange," bluntly remarks a senior figure of the organised Cypriot diaspora. "That's not to say that there are not MPs who do act on our behalf out of conviction and real friendship. There are many actually," he quickly adds.
The higher echelons of British diplomacy may or may not have limitations to the weight of the pressure they can exercise over Turkey or other international actors in play over the Cyprus issue; but the grassroots Cypriot lobbying apparatus has been galvanised over the years, always ready to strike when the chance presents itself.