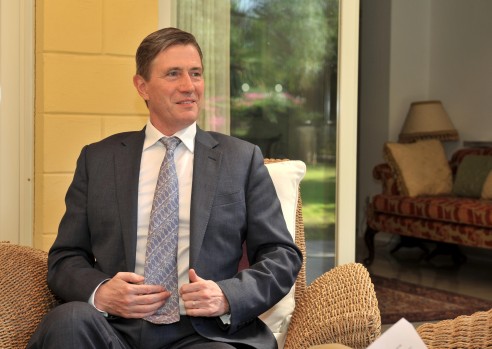 By Kyriacos Kyriacou – Nicosia
The British Sovereign Base Areas in Cyprus are actively involved in tackling "the brutal and murderous Islamic State through humanitarian support", said Tuesday the British High Commissioner in Cyprus, Ric Todd.
In an interview to sigmalive.com he stressed that the actions of jihadists have created a humanitarian crisis in Syria and Iraq.
Geographical position
Ric Todd expressed his enthusiasm for UK-Cyprus cooperation on the matter, saying that there is determination from both countries to work together to tackle terrorism and the threat of the Islamic State.
He also said that due to the significant geographical position of Cyprus, the Sovereign Bases on the island could play an important role during the operations.
Military purposes?
Asked whether Cyprus will also be used for military purposes, Ric Todd responded that the British Prime Minister made it clear that we will do everything possible to address the threat of ISIS. He refused to comment on specific military issues. However he said that the Prime Minister's "commitment is clear: 'We are determined to work with our allies and our partners to tackle the very serious long-term threat, not only for the region but throughout Europe aswell.'"
Passage for jihadists
According to the Cyprus Intelligence Agency (BPH), with Turkey closing the passages towards Syria for jihadists, including the Islamic State, the focus now falls in the turkish-occupied part of Cyprus, as had happened previously with Chechen radical Islamists – separatists.
Head of the BPH, Andreas Pentara said that the jihadists want to use the turkish-occupied area as a stopover to go into the war zone".
However he stressed that the State has taken all necessary measures in Cypriot airports, adding tha jihadists found in Cyprus airports, around ten, have been repatriated.
Pentara said that the jihadists do not currently intend to turn Cyprus to a warzone, but to use it to move, through occupied areas, in Syria, Iraq, and Lebanon.