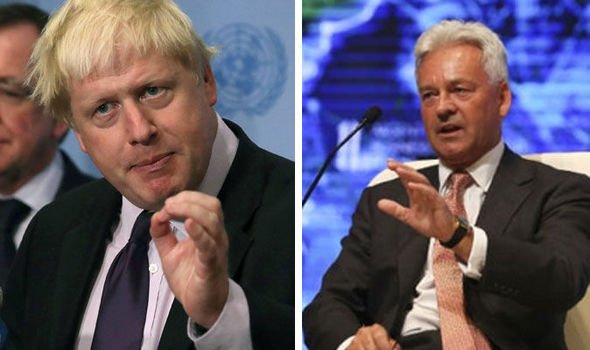 The United Kingdom will be represented at the Geneva Conference on the Cyprus problem by the political leadership of the Foreign Office.
Together with Foreign Minister Boris Johnson, also present at the talks will be the Deputy Foreign Minister responsible for European Affairs Sir Alan Duncan, who traveled last week to Ankara and Athens.
Diplomatic sources said that the Prime Minister Teresa May is prepared for the possibility of having to travel herself to the Swiss city, which would happen only if an agreement is close or if her actual presence would help close some loose ends.
In London they believe that this is the position Greek Prime Minister Tsipras and Turkish President Erdogan are keeping and that Greece and Turkey will be represented for the time being at a lower level.
Ms May is being updated constantly on the developments and scenarios for the Cyprus problem, asking from diplomats and associates detailed memos.
Mr Johnson traveled yesterday to New York for contacts with the consultants of Donald Trump, and today he will meet in Washington with leading senators, while on Tuesday he will attend the House of Commons to answer questions on foreign policy. He will probably depart for Geneva on Wednesday.
Information indicates that the British mission will be enlarged in the sense that in it will participate diplomats who do not serve necessarily in London but have a deep knowledge of the Cyprus issue.
As to the substance of the talks, the Guardian reports that British government officials believe that the maximum that can be achieved in Geneva is a "framework agreement" for the reunification of Cyprus.
As mentioned in the article, there is a possibility that the parties concerned will return to the negotiating table in Geneva in a few weeks. However, Britain, the EU and the UN will push for a suffix this week on the Framework Agreement, as the timeframe for the referendum are considered to be tight. It should be noted that it is believed that the referenda could take place as soon as April.
British government officials still appear optimistic, but recognize that the outcome of the conference is unpredictable./IBNA