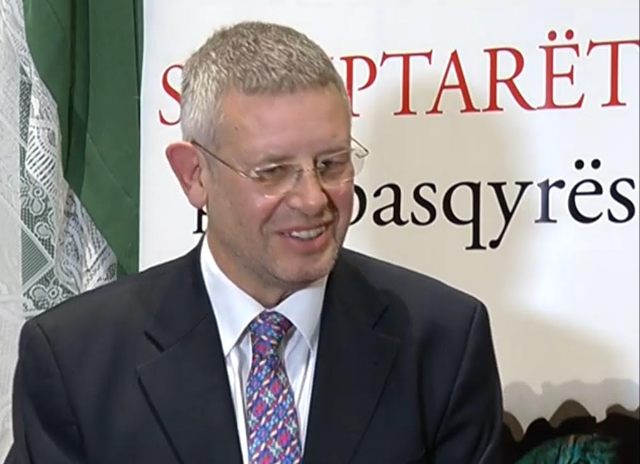 Alan Andon, known about the publication of his book called Xenophobe's Guide, is a Brit who is very passionate about Albania.
His real name is Andy Michajlovic and he is from Scotland, but he prefers to use a typical Albanian name, Alan Andoni.
Alan has chosen to live in Albania, after discovering this country through Radio Tirana 40 years ago.
At that time, Albania was isolated, but it crossed the communist borders through the radio waves of the program for foreigners.
"I am passionate about Albanians and Albania, therefore I have chosen to live here. There's something that makes Albania attractive and that keeps you here", says writer Alan Andon.
He has also prepared a book, "Albanians in front of the mirror", a publication which is dedicated to Albanians and which came out in the recent days. "I think that like all other people, Albanians do enjoy looking themselves in the mirror. My book is a metaphysical mirror of the Albanian people, which doesn't reflect the image, but their personality, character and traditions. The words in this book are my words, but the histories belong to the Albanians and they are often handled in a humorous way", the writer explains.
The book is characterized by critical notes for the impulsive character of the Albanian people and satirizes the changes in behavior during the post communist transition period.
Alan Andon says that Albanians are unique. "They are Balkan people as much as they are Mediterranean, rural and Europeans. This is a unique mix", he says. "In front of the mirror, Albanians are interesting, charming, sometimes frustrated and rewarding", the author says.
Meanwhile, he explains why he has written a book on Albanians: "I wanted to show foreigners how Albanians truly are. The original book is in English and has been sold a lot mainly to tourists and Albanians who live abroad".
Alan also recalls the moments when he decided to come to Albania and faced serious warnings: "When I came to Albania, foreigners told me that Albania was a country of the mob and drugs. But, no, I told them, every country has something good and something bad".
The best advice that Alan Andon can give is for Albanians to work more and not emigrate, because Albania is a rich and beautiful country.
"Albanians in front of the mirror" has been included as part of the Xenophobe's Guide series. Before, these series have included books about Americans, English, Italians, French, Greek and other people.
Xhenophobe's Guide is a series of best seller guides throughout the world, because it is written full of love and humor. /balkaneu.com/