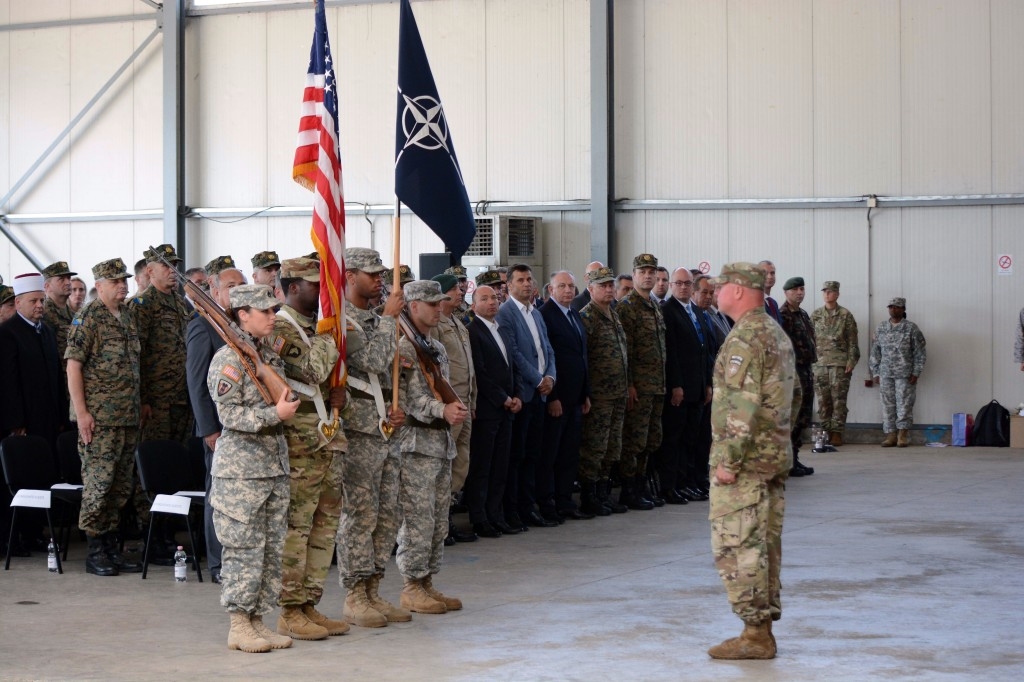 The ceremonial handover in NATO Headquarters Sarajevo on Tuesday marked the end of the two-year long term of Brigadier General Giselle Wilz command of Alliance HQ in BiH and beginning of term of US Brigadier General Robert Huston.
In a farewell speech, Wilz stressed that BiH is going to face many challenges in the future, but that she is still a great optimist, as she was when she took office 25 months ago. During this period, as she said, it was clear to her that everyone in BiH wants a better future.
"The BiH Armed Forces continue to be the model of this country, and although in some areas they are lagging behind, significant progress has been made. The completion of the Defense Review puts BiH in a position to move forward because plans have been made.  Now it's time to start working", Wilz said.
She emphasized some of the steps that need to be taken, including integrity of the Armed Forces of BiH, and added that there is no room for politics within BHAF structure and abilities. Wilz said diversity and inclusion can be a pillar of strength not only of the Armed Forces but of the entire country.
"Use the past as an experience, learned lessons, keep the memories of loved ones you lost, but it's time to look into the future. Your children and grandchildren deserve it, and the prosperous future of BiH citizens requires it", she said, announcing that she would return to BiH because the citizens of BiH gave her good impressions.
US Brigadier General Robert Huston has announced that he will remain committed to this course and that he will continue the path he has been heading to the NATO headquarters to date. He added that he will make significant efforts to support BiH citizens and, with the members of the Armed Forces, will work to preserve a stable and secure environment that will provide a stable platform for economic priority.
Huston said that the future generations are the most important and that everything is being done for them, including all necessary steps in order to preserve peace, protect families and provide a better life for children.
"That's exactly are my beliefs and priorities. I am sure that you will see it in my work, and not just in words in the next two years. Together we can ensure peace and improve the prosperity of BiH and the whole region", Huston explained.
He added that BiH, as every country, has challenges to solve, but they are not necessarily problems. Huston stressed that they become problems only if there are no people who want to go ahead and solve them, and BiH has people who want to solve problems.
The newly appointed Commander Huston will advise the local authorities on military aspects of the security sector reform and command the forces of the North Atlantic Treaty Organization (NATO) in BiH. He entered the army in 1987. Huston is a pilot-commander with more than 4,000 hours of flight on airplanes./IBNA