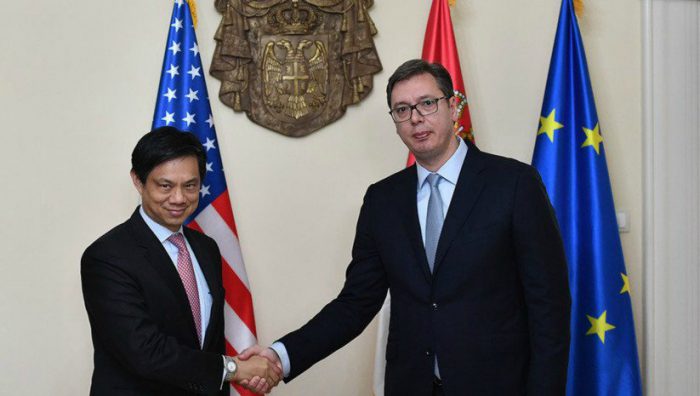 Brian Hoyt Yee is the deputy assistant secretary for European and Eurasian Affairs at the U.S. of A. State Department. On Wednesday, he is expected to visit Pristina, after his recent trip to Belgrade. Yee participated at the 17th Serbian Economic Summit, held in the Serbian capital.

According to an official confirmation by the American embassy in Kosovo's capital Pristina, Brian Hoyt Yee is expected there and has plans to meet with the country's President Hashim Thaci, the Speaker of Assembly Kadri Veseli, and the Prime Minister Ramush Haradinaj.
Recently, when Kosovo political figures asked for the States' involvement in the Pristina-Belgrade dialogue, Yee himself said that the U.S. is being involved in the talks, already since the first day.
During his stay in Kosovo, the American senior official will meet representatives of civil society and members of the local parliament.
Yee spoke at the 17th Serbian Economic Summit, in Belgrade and, referring to the Serbian EU integration course, he made clear that Belgrade's ties with Moscow are not making things easy for Serbs. "The states willing to join the EU had to make their decision very clear. You can't sit on two chairs, especially that apart", he said.
It is not the first time that the American diplomat has made comments about the Russian influence in the SW Balkans. When he visited Belgrade in May (2017), he did not mince words: "What happened in Montenegro last October, as well as the energy policy of Russia, brings instability in certain countries (…) When our interests, values, and goals are incompatible and conflicted, we will strongly protect the interests of our allies and partners. We are convinced that Russia will maintain its constructive role in the Balkans, but we will closely monitor their activities."
Nevertheless, during his latest (October 23, 2017) visit to Serbia, he met with high officials, just like he will do in Kosovo, and stressed, as a press release from the Serbian government read, that his country "is ready to provide assistance of any kind for Serbia to become an EU member state in the nearest possible future."…/IBNA
(Library) Photo: Srdjan Ilic