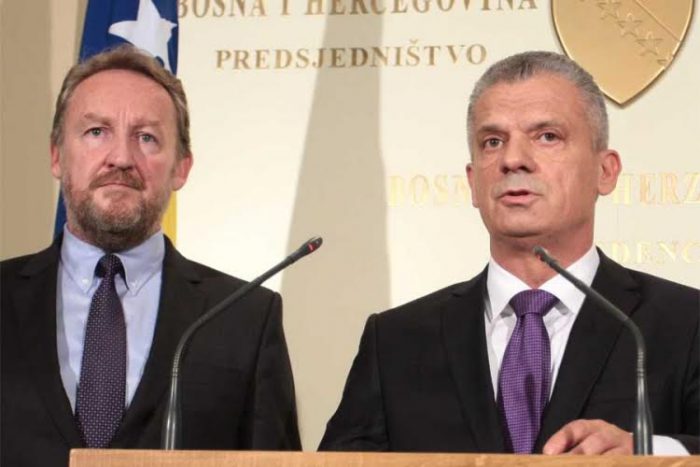 Due to the state level institutional crisis, the High Representative of the international community to BiH, Valentin Inzko, called the leaders of the parties who, until several months ago, participated in the parliamentary majority in the country's Parliament, to gather in Sarajevo on December 8.
As it was announced, the ambassadors of the Peace Implementation Council countries and political leaders will take part in the meeting which will be hosted by Inzko.
It is expected that leaders of the SDA, Bakir Izetbegović, HDZ BiH, Dragan Covic, SDS, Vukota Govedarica, PDP, Branislav Borenovic and NDP, Dragan Cavic will attend it. The head of the Alliance for a better future in BiH (SBB), Fahrudin Radoncic, was invited but he already informed Inzko that he will not come to the meeting. Radončić declined the invite due to the (there) presence of Izetbegović.
Radončić explained that, in December last year and then again in March of 2017, Izetbegović asked the SBB to leave the ruling coalition. He pointed out that the SBB regularly called for the convening of a new parliamentary majority and emphasised that it was not a problem for the party to leave one ministerial position in the BiH Council of Ministers, four ministerial positions in the Government of the Federation of BiH, and the remaining positions in the three cantons, because in the other seven Cantons it is not in power.
"All these positions are available to the SDA coalition partners – the Croatian Democratic Union (HDZ) BiH, or the Alliance for Change," Radončić said in a statement, calling on Izetbegović to form a new parliamentary majority.
The SBB believes that there is no need for Radončić to attend the high-level meetings of the non-existent ruling coalition with political consequences that have already occurred all because of Izetbegović.
In fact, one wonders why Inzko has waited for so long to organise such a meeting. The parliamentary and institutional, crisis in BiH was obvious already since the end of last year when the first dispute among partners became visible. At several meetings held at that time, the leaders of SDA, SBB, SDS, PDP and HDZ tried in vain to breathe life into an already dead project.
Even when it was more than clear that things would not improve, instead of confirming a new majority, the coalition partners did not do anything to fix the situation. The deepest abyss lies between Izetbegović and Radončić, influencing the cooperation of coalition partners.
Radončić and Izetbegović's political disagreement is an old story that prohibits BiH institutions from proper governance. The last time when the SDA-SBB coalition was functional was for a short period of time after the last general election, three years ago. Following mutual accusations of political irresponsibility, the coalition was left badly damaged also influencing the relations within the ruling coalition.
Such an outlook from abroad is harming the country its potential to be chosen by foreign investors. The entire country has become hostage of the ruling coalition's dispute, lacking parliamentary majority. Unfortunately, the meeting, which Inzko, having the best of intentions, called for, failed before it even began…/IBNA