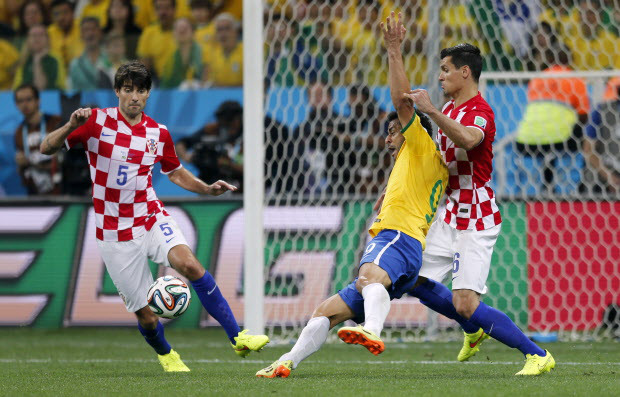 By Marija Avramovic – Zagreb
Chosen boys of the Coach of the Croatian national team Niko Kovac were defeated by the hosts of the tournament by 3:1 in the first game at the World Championships in Sao Paulo, Brazil, with the Japanese referee Yuichi Nishimura affecting the outcome, by giving a dubious penalty for Brazil when the score was 1-1.
The hosts of this year's World Cup had been announcing for months that the artistic part of the program would be a phenomenal project, having invested 9 million euros in it. Before Korinthians half-empty arena, which was the place of the opening of the 20th anniversary of FIFA World Cup, worldwide star Jennifer Lopez, famous rapper Pitbul and Brazilian singer Claudia Leitte sang the anthem of this year's competition "we are all one" and that was pretty much everything saw at last night's opening.
Kovac did not hide his disappointment with the judge, Japan's Yuichi Nishimura. He was particularly angry for awarding the penalty during a crucial moment after which Brazil took the lead (2-1).
"If it was a penalty, it is better for all of us to leave football. It's a shame, robbery", Kovac added for Croatian Radion and Television.
Foreign media have not remained neutral, most of them writing about Neymar, about a courageous Croatia, criticizing Brazil's bad performance, and speaking of a desperately poor Japanese referee. Almost all relevant international media agree that the referee Nishimura robbed Croatia against Brazil.
Croatian neighbors, all of them, wrote about Croatia's brave game for which "The Brazers", according to regional media, deserved at least the tie.
More than 12.2 million tweets were published during last night's match, reports the Huffington Post. A large number of Twitterers did not hide their displeasure and astonishment for the "dubious" penalty.
Reportedly, last night's game in addition to the 62,000 spectators in the Arena Corinthians,  was watched by almost two billion people worldwide by TV screen.
The world's biggest sporting event of the year was also watched by the UN Secretary-General Ban Ki-moon and the eleven heads of state or government including  Croatian Prime Minister Zoran Milanovic who, as a representative of a country that opens up the World Cup,  got a special place in the conference box.
Prime Minister arrived in Brazil at the invitation of Brazilian President Dilma Rousseff with whom he will have bilateral talks on Friday.
After yesterday's confirmation of the Croatian Democratic Union (HDZ) that Kolinda Grabar Kitarovic is their candidate for the next presidential elections, she didn't mention her candidacy on social networks, but with the photographs on her Twitter and Facebook in which she carries a Croatian jersey, gave support to the Croatian national team ahead of the match against Brazil, which could easily be interpreted as a prelude to the election campaign.